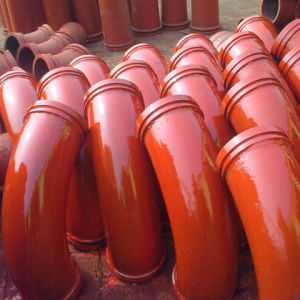 CZPPpremier boom pipe elbow and bend offering, Wear Resistant pipe has the longest service life on the market and is ideal for high-volume pumping under extreme wear conditions. This ultra wear-resistant pipe is made of a static outer pipe with an inner pipe with heat-treated hardness up to 65 HRc. It is fitted with two patented twin-cast Big Mouth flanges to prevent the radical transfer of destructive wear from the elbow to the straight pipe. A unique welding process results in no heat-affected areas of the pipeline.
Our elbows are high manganese steel casting and flanges are casted together and machined to finish which strengthens quality.
The service life is 25,000-30,000 cubic meters and can be used on 
Schwing
, 
Putzmeister
, Kyokuto, Cifa, Sany, Zoomlion, etc, boom pumps.
Product Description:
| | |
| --- | --- |
| Product Name | Concrete Pump Elbow |
| Product Profile | The double layer concrete pump elbow is developed by ourselves through new technology and process. |
| Inner characteristic | the inner layer of this concrete pump elbow undergoes heat treatment,and then the rigitiry can reach 62-65HRC. |
| Outer characteristic | the outer layer of the concrete pump elbow possess good toughness properties to protect the inner layer,so the security of the elbow is improved. |
| life | the experiment done abroad shows that the life of our concrete pump elbow can reach 35000-50000cbm,got the customers' praise |
| Notes: | Beside the double layer concrete pump elbow,we produce all kinds of concrete pump parts,straight pipe hose flange coupling and so on. |
Technical Data:
Name
Concrete pump elbow
Size  DN125(5), DN150(6)
Radius  R275, R180 R320
Degree   90, 60, 45
Quality  Cast manganese
Service life  25,000-30,000 cubic meters
Pump brand  Schwing, 
Putzmeister
, Kyokuto, Cifa, Sany, Zoomlion.
Surface  Painting
 Product Parameter:
Wear-resistant Single or Double Concrete Pump Elbow
Type
Singe Elbow
Double Elbow
Model
DN125
DN150
DN175
DN125
Material
Casting Steel ,ST52
Inside
 40Cr
Outside
Size
R275*90°
R275*90°+110
36°
F2000
R275*90°
R275*90°+110
R275*45°
R275*90°+211
R400*30°
A3000
R275*45°
R275*90°+211
R275*25°
R275*90°+411
R400*45°
471B
R275*25°
R275*90°+411
R275*20°
R275*90°+424
R400*30°
571B
R275*20°
R275*90°+424
R275*15°
R275*45°+170
R488*90°
A1000
R275*15°
R275*45°+170
R180*90°
R275*45°+310
R500*90
C1000
R180*90°
R275*45°+310
R232*60°
R275*45°+310
R280*90°
B2000
R232*60°
R275*45°+310
R240*36°
20°Lengthen
R240*36°
20°Lengthen
R240*30°
25°+740
R240*30°
25°+740
R240*15°
40°Zoomlion
R240*15°
40°Zoomlion
R385*29°
R385*29°
R315*33°
R315*33°
Technic
Forged
Average life
25,000cubic
50,000cubic
Appliciation
Used in concrete transport in construction work
Stainless Steel Pipe Elbow Dimensions 20 Degree
FOB Price: US $10 / Piece
Min. Order: 3 Pieces
Construction and Engineering Spare Parts Concrete Pump Elbow Pipe
FOB Price: US $10 / Piece
Min. Order: 3 Pieces
High Wear Resisting 90 Degree Pipe Elbow for Concrete
FOB Price: US $10 / Piece
Min. Order: 3 Pieces
The Widely Used Steel Material Concrete Pump Elbow
FOB Price: US $10 / Piece
Min. Order: 3 Pieces
Wear Resisting Concrete Pump Elbow/Bend
FOB Price: US $10 / Piece
Min. Order: 3 Pieces
Sany Concrete Pumps Pipeline High Quality Bends
FOB Price: US $10 / Piece
Min. Order: 3 Pieces
Concrete Pump Truck Dn125 Concrete Pump Elbow Pipe
FOB Price: US $10 / Piece
Min. Order: 3 Pieces
90 Degree Flange Elbow Used for Concrete Pump Pipe
FOB Price: US $10 / Piece
Min. Order: 3 Pieces
High Manganese Boom Elbow
FOB Price: US $10 / Piece
Min. Order: 3 Pieces
Schwing Concrete Pump Pipe Elbow
FOB Price: US $10 / Piece
Min. Order: 3 Pieces
Dn125 Wear Resisting Elbow Concrete Pump Parts/Pipe Bend
FOB Price: US $10 / Piece
Min. Order: 3 Pieces
FM/UL Certification Pipe Fitting 90 Degree Wear Resistant Concrete Pump Steel Elbow
FOB Price: US $10 / Piece
Min. Order: 3 Pieces
Ce & ISO Approved Long Radius Putzmeister Concrete Pump Bends
FOB Price: US $10 / Piece
Min. Order: 3 Pieces
Wholesale Dn125 Concrete Pump Schwing Pump Boom Elbow
FOB Price: US $10 / Piece
Min. Order: 3 Pieces
FM/UL Certification Seamless Stainless Steel 180 Degree Pipe Bend
FOB Price: US $10 / Piece
Min. Order: 3 Pieces
Wholesale Alibaba 90 Degree Long Radius Schwing Dn100 Elbow
FOB Price: US $10 / Piece
Min. Order: 3 Pieces
UL FM Approved 45 Degree Putzmeister Concrete Pump Pipe Elbow
FOB Price: US $10 / Piece
Min. Order: 3 Pieces
China Manufacturer of Seamless Concrete Elbow Pipe
FOB Price: US $10 / Piece
Min. Order: 3 Pieces
China Factory Seamless Stainless Steel Schwing Elbow
FOB Price: US $10 / Piece
Min. Order: 3 Pieces
China Factory Twin Wall Concrete Pump Putzmeister Elbow
FOB Price: US $10 / Piece
Min. Order: 3 Pieces
High Quality Seamless Carbon Steel Pipe Elbow with Flange
FOB Price: US $10 / Piece
Min. Order: 3 Pieces
Carbon Steel Concrete Pump Durable Long Bend Pipe
FOB Price: US $10 / Piece
Min. Order: 3 Pieces
Dn125 Large-Diameter Concrete Pump Elbow Pipe
FOB Price: US $10 / Piece
Min. Order: 3 Pieces
High Pressure Putzmeister 45 Degree Concrete Pump Elbow
FOB Price: US $10 / Piece
Min. Order: 3 Pieces
Concrete Pump Bend Pipe China Maufacturer
FOB Price: US $10 / Piece
Min. Order: 3 Pieces
Twin Wall Seamless Carbon Steel Elbow Pipe
FOB Price: US $10 / Piece
Min. Order: 3 Pieces
Concrete Pump Degree Pipe Fitting Elbow
FOB Price: US $10 / Piece
Min. Order: 3 Pieces
Concrete Pump Large Diameter Delivery Pipe Double Layer Elbow
FOB Price: US $10 / Piece
Min. Order: 3 Pieces