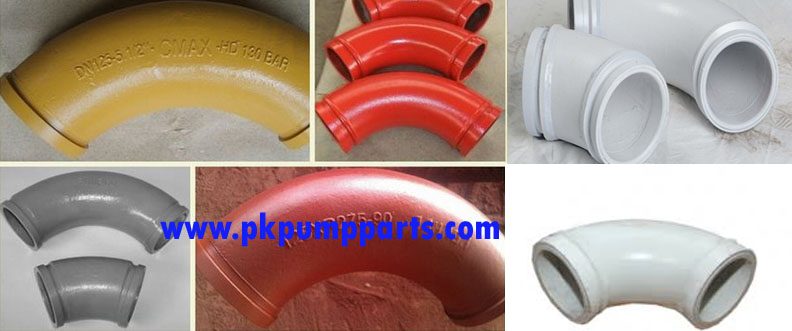 Model Number: DN125 DN150, DN125,DN150
name: concrete pump casting elbow/single wall elbow
Curvature: Customizable
Bend degree: 90D,45D,30D,25D,20D,15D,10D etc
Connection: Flange
Material: Carbon steel
certificate: ISO9001-2008
Surface of treatment: baking
Material of elbow: Mn13
application: PM, CIFA, Sany
Processing and Technology
Raw Material—-Plasma Cutting Pipe Technology—-Automatic Welding Flange—-Quench (harden)—-Rust Removing Abrasive Blasting—- Electroni Spraying—-Baked Enamel—-Packing
Product
NO.
Name
Material
Size
Life time
Diameter
Thickness
Radius
Degree
PK021
Twin wall concrete pump elbow
16Mn+ST52
DN100
DN125
DN200 etc.
3.5+10mm
3.5+20mm
etc.
R275
R180
etc.
9D,15D,
30D,45D,
60D,90D etc.
Best
PK022
Single wall concrete pump elbow
High chromium Mn13-4
DN100
DN125
DN200 etc.
8mm
12mm
16mm etc.
R275
R180
etc.
Best
PK023
Concrete pump bend
ST52
DN100
DN125
DN200 etc.
8mm
10mm
etc.
R500
R1000
etc.
Better
Note: The life time of twin wall concrete pump elbow is the longest.
Twin Wall Schwing 90° Concrete Pump Elbow is designed specifically for pipe systems fitted on large truck-mounted concrete boom pumps. This concrete elbow features a reduced weight to protect the boom design and improve stability. This  Concrete Pump Elbow 90° lightweight 90° elbow serves as the ultimate solution for performance and wear life at a reduced weight.
This concrete elbow has a mild steel outer pipe and a solid inner pipe of the unique steam-hardened Esser 900 twin-cast material. It is completed with two Concrete Pump Elbow twin-cast Big Mouth flanges. This elbow also has a hardness of 67 HRc throughout the entire inner cast pipe. 、
Description Concrete Pump Elbow :
Type
Single elbow
Twin wall elbow
Applicable Pump Brands
Modle
DN125

(5")

DN125

(5")

Putzmeister, Schwing,kcp,Sany,

Zoomlion etc.

SIZE

R275*90D
R275*90D
R275*45D
R275*45D
R275*30D
R275*30D
R275*25D
R275*25D
R275*20D
R275*20D
R275*15D
R275*15D
R275*10D
R275*10D
details of concrete pump elbow/bend pipe
Name
Specification
Material
Weight
Working press
Life time
Normal elbow
R275*90DE
Cast steel
16kg
160bar
25.000CBM
R275*45DE
Cast steel
9kg
160bar
25.000CBM
R275*30DE
Cast steel
8kg
160bar
25.000CBM
Heavy elbow
R275*90DE
Cast steel
18kg
180bar
35.000CBM
Twin wall  elbow
R275*90DE
Wear material
17kg
180bar
60.000CBM
R275*45DE
Wear material
9.5kg
180bar
60.000CBM
R275*30DE
Wear material
8.5kg
180bar
60.000CBM
Big diameter elbow
R1000*90DE
ST52
23kg
150bar
20.000CBM
R750*90DE
ST52
17kg
150bar
20.000CBM
R500*90DE
ST52
12kg
150bar
20.000CBM
1.We are a factory which producing concrete pump parts , and we have done many years in the factory with rich experience, the main products include concrete pump pipe, concrete pump elbow, concrete pump reducer pipe, concrete pump flange, piston, rubber hose, sponge cleaning ball, wear plate, cutting ring etc.
2.Our products are Top quality in china which can be used on SCHWING,PM,KYOKUTO,SANY,ZOOMLION
and have been recognized by them.
3.Quality certification of ISO 9001:2000. OEM service available.