Concrete Pump pipe is generally divided into DN80,DN125 and DN150.
DN80 pipe is mainly for sand blasting;
DN125 and DN150 are mainly for concrete handling and delivery.also both have high pressure and low pressure types.
Concrete pump pipe specifications
1.Material: 45Mn2,55Mn ,65Mn,20# steel…
2. Sizes: DN80-DN150 (mm unit),generally 125mm
3. Length: 1m,2m,3m, 6m or according to clients' requirements.
Specification for general size :
Name 
size 
Thickness(mm)
Length (M) 
ST52 concrete pump pipe 
 DN125  
4.5
3
DN125
5.0
3
Concrete pump hardened pipe 
DN125
4.5
3
DN125
4.8
3
DN125
5.0
3
DN125
7.0
3
Concrete pump twin wall pipe 
DN125
2.5+2
3
DN125
3+2
3
DN125
5+2
3
ZX Concrete pump pipe 
ZX5″
6.0
3
ZX5.5″
7.1
3
FM5″
6.0
3
FM5″
7.1
3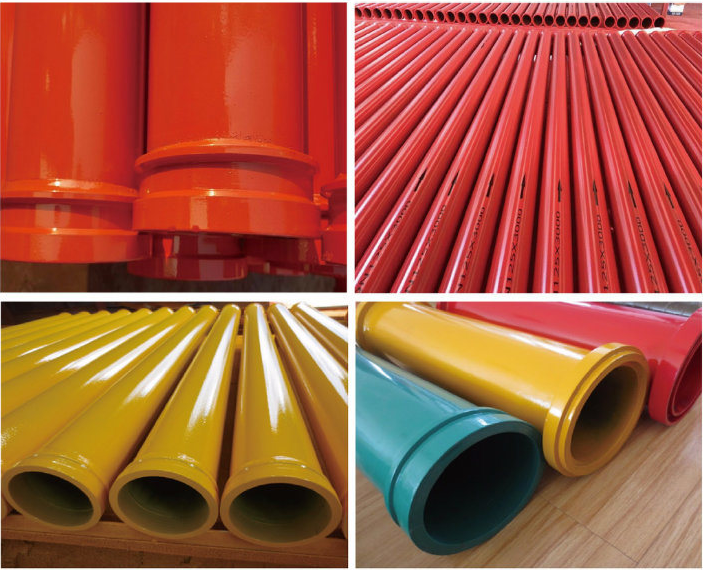 China Factory Concrete Pump Double/Single Wall Pipe
FOB Price: US $18-58 / MeterMin. Order: 1 Meter
Wear Resistant Seamless Single Wall Zoomlion Concrete Pump Straight Pipe and Fittings
FOB Price: US $18-58 / MeterMin. Order: 1 Meter
High Abrasion 5inch Dn125*4.5mm*3m Sany Concrete Pump Boom Pipe Supplier
FOB Price: US $18-58 / MeterMin. Order: 1 Meter
China Twin-Wall 3m Dn125 Putzmeister Concrete Pump Boom Pipe Factory Sale
FOB Price: US $18-58 / MeterMin. Order: 1 Meter
Factory Price St52 Dn125 Concrete Pump Pipe for Concrete Delivery
FOB Price: US $18-58 / MeterMin. Order: 1 Meter
Concrete Pump Delivery Seamless Pipe Dn125*4.5mm*3000mm for Conveying Concrete
FOB Price: US $18-58 / MeterMin. Order: 1 Meter
Best Quality Dn125 Dn150 Concrete Pump Delivery Pipe Manufacture Supply
FOB Price: US $18-58 / MeterMin. Order: 1 Meter
China Factory 3m Dn125 Zoomlion Concrete Pump Boom Pipe
FOB Price: US $18-58 / MeterMin. Order: 1 Meter
Trucks and Trailers Parts Concrete Pump Flexible Pipe
FOB Price: US $18-58 / MeterMin. Order: 1 Meter
Putzmeister Zoomlion Concrete Pump Wear Resistant Pipe Hardened Pipe Price
FOB Price: US $18-58 / MeterMin. Order: 1 Meter
St52 Concrete Pump Pipe for Putzmeister/Schwing…., Harden up to 65HRC
FOB Price: US $18-58 / MeterMin. Order: 1 Meter
Putzmeister Z/X Concrete Pump Straight Pipe with 7.1mm Thickness
FOB Price: US $18-58 / MeterMin. Order: 1 Meter
Different Sizes Schwing/Pm/Sany/Zoomlion Concrete Pump Straight Pipe
FOB Price: US $18-58 / MeterMin. Order: 1 Meter
Galvanized Steel Pipe Iron Gi Tube Pipe for Concrete Pump
FOB Price: US $18-58 / MeterMin. Order: 1 Meter
China High-Quality Single Wall Concrete Pump Boom Elbow Pipe Price
FOB Price: US $10-50 / MeterMin. Order: 1 Meter
Concrete Pump Pipe Used for Trailer Concrete Pump
FOB Price: US $18-58 / MeterMin. Order: 1 Meter
Cifa Schwing Putzmeister Concrete Pump Twin Wall Pipe (2.5+2mm)
FOB Price: US $18-58 / MeterMin. Order: 1 Meter
Double Wall Straight Pipe for Concrete Pump
FOB Price: US $18-58 / MeterMin. Order: 1 Meter
45mn2 Wear Resisting Heat Treated Concrete Pump Pipe
FOB Price: US $18-58 / MeterMin. Order: 1 Meter
Dn125 5 Inch Concrete Pump Delivery Boom Pipe for Trailer
FOB Price: US $18-58 / MeterMin. Order: 1 Meter
Dn125 3m Harden Boom Concrete Pump Wear Resistant Pipe
FOB Price: US $18-58 / MeterMin. Order: 1 Meter
Heavy Duty Concrete Pump and Boom Used Double Wall Pipe
FOB Price: US $18-58 / MeterMin. Order: 1 Meter
Wear Resisting Concrete Pump Boom Reducer Pipe
FOB Price: US $15-50 / MeterMin. Order: 1 Meter
Competitive Price Dn125 5inch Dn150 6inch Concrete Pump Hardened Pipe with Sk Flange on Sale
FOB Price: US $18-58 / MeterMin. Order: 1 Meter
2′′ 3′′ 4′′ 5′′ 6′′ 45mn2 Hardened Sany Concrete Pump Deck Pipe Factory Price
FOB Price: US $18-58 / MeterMin. Order: 1 Meter
4′′ 5′′ 6′′ Pump Truck-Mounted Steel Concrete Pipes for Sany Zoomlion
FOB Price: US $18-58 / MeterMin. Order: 1 Meter
Zoomlion Sany Putzmeister Concrete Pump Conveying Boom Pipe, St52 Dn125 Putzmeister Pump Boom Line
FOB Price: US $18-58 / MeterMin. Order: 1 Meter
Heavy Duty 5′′ 6′′ 4′′ Steel Concrete Pipes for Concrete Pump and Booms
FOB Price: US $18-58 / MeterMin. Order: 1 Meter