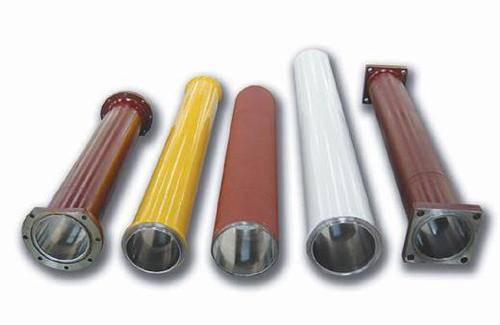 production process
Step 1 : the material is 45# steel pipe produced from Tianjin Chinacut the material to different length,
accoring to requirement.
Step2: after cut off, treatment the steel pipe , strongen its hardness and toughness .
Step3: primary process, remove the oxidation layer.strongen the beautiful
surface and provide the base for welding flange.
Step4: line boring, make the product straight line.
Step5:honing
Step6:semi finishing, confirmed the toally length, and treat the surface
Step7: hard chrome. send the goods to electroplating workshop ,inner
wall chrome
Step8:precison turning then painting and package
Product Name

concrete pump truck delivery cylinder pipe

Brand

SANY

Material

Quality steel + Super thick chromium plating

Model Number

DN200

DN230

DN260

Diameter & Length

Φ200 x 1946

Φ230 x 2146

Φ260X2145

Length

1946mm

2146mm

2145mm

Chrome plate layer thickness

0.25-0.3mm

0.25~0.3mm

0.26-0.33mm

Hardness on chromium plating surface

>HRC64

>HRC64

>HRC64

Service Life

100,000m³

100,000m³

>100,000m³

Application

Trailer Concrete Pump

Truck-mounted Concrete Boom Pump/Vehicle-Mounted Pump

Truck-mounted Concrete Boom Pump
Concrete Pump Delivery Cylinder
Model No. : DN180/200/230
Putzmeister/Schwing/Sany/Zoomlion/Kyokuto/IHI Delivery Cylinder Delivery cylinder is used for concrete pumps or trailer pumps. We supply Putzmeister, Schwing, Zoomlion, Sany, Kyokuto, IHI cylinders and so on with different specifications and…
China Concrete Pump Delivery Cylinder of with CE
Concrete pump parts delivery cylinder
Model No. : DN180/DN200/DN250
Concrete pump parts delivery cylinder In our concrete pump spare parts warehouse ,we have putzmeister, schwing, sany, zoomline, IHI brands concrete pump delivery cylinders at stock. This kind of concrete pump delivery cylinder more important…
China Manufacturer of Concrete Pump Conveying Cylinder
Putzmeister Concrete Pump Accessories Delivery Cylinder
Model No. : DN200
Putzmeister concrete pump accessories delivery cylinder Hebei Shengdebaolong International Trading Co.,Ltd can supply you the best quality putzmeister concrete pump accessories delivery cylinder. a.Product name:concrete pump hydraulic conveying…
Customized Putzmeister Concrete Pump Cylinder Made in China
Sany zoomline concrete pump conveying cylinder
Model No. : DN206
Sany zoomline and schwing concrete pump accessories converying cylinder Material Alloy Steel, Carbon Steel, Stainless Steel, Hardened & Tempered Steel, Cast Iron, Aluminum, Copper, Brass and so on (1). Heat Treatment Hardening and Tempering,…
Professional Manufacturer of Schwing Concrete Pump Cylinder
Concrete pump delivery pipe cylinder
Model No. : DN200*2100mm
concrete pump delivery cylinder About the concrete pump delivery cylinder, we have putzmeister delivery cylinder, schwing delivery cylinder, sany and zoomline delivery cylinder.Which is used on many different brands of pump. our delivery cylinder…
China Supplier of Concrete Pump Delivery Cylinder