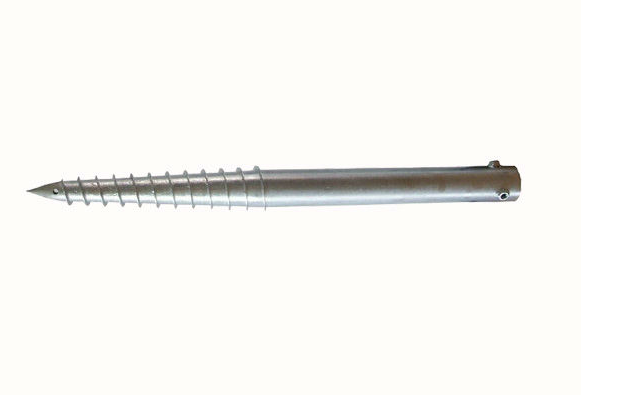 Screw pole anchor is made of steel pipe,steel box, and formed by welding.
Steel pipe forms the body of spiral post anchor, which could better ensure Max.strength at conical ends. Thus to screw into different soil.
It could be well adapted to various supporting system and installation. Size and type of box on screw pole anchor are optional. This is designed to strengthen the side power of pole anchor and extend its life.
Spiral shaft is continuously welded on the steel screw pole anchor, to compress soil, to make it reach Max. pulling value & loading value. Less spiral shafts guarantee ground screw pole anchor screwed into soil.
Hot dipped galvanized screw pole anchor could enhance anti-corrosion ability, enhance lifetime.
Ground screw pole anchor could be installed manually or mechanically. We also produce pole anchor as below pictures shows. For more details, free to mails us for inquiry. As factory, we produce pole anchor at 20ft container quantity in 4 days. Apart from pole anchors, our specialty is DIY metal according to drawings.
1. Materials: stainless steel,carbon steel,etc.
2. Precision: according to your drawings.
3. Equipments: Threading machine, Cutting slot machine, Punching machine, CNC lathe, Cold heading machine ectc.
4. Parts are used on vehicles, printing machines, food processing machines, textile machines, electronic machines, etc.
5. We are able to supply sheet metal, mechanical parts machining, surface treatment such as anodization and plating according to our customers' requirement.
6. Our products have been exported to America, Canada, England and Belgium and Japan, we can guarantee the high quality.
Specification
Ground screws
Length
Usual type: 1600 /1800 /2000mm ( 550mm-4000mm )
Outer Diameter
 48 /60 /68 /76 / 89 /114mm
Pipe thickness
2.5 / 3.0 / 3.5 / 3.75 / 4.0 mm
Depth
500~3000mm
Material
Q235 ISO630 Fe A / DIN EN10025Fe 360 B
Surface Treatment
Hot dip galvanized to DIN EN ISO 1461-1999.
Top Design:
Flange (  or 3*M16)
Screw spacing
40 / 60 mm
1.Product Dimensions
Diameter(mm)
Thickness(mm)
Height(mm)
68
2
550
68
2
680
76
2
1000
76
2
1200
76
3
1200
76
3
1500
76
3
1800
89
3
1500
89
3
1800
89
3
2100
114
4
1800
114
4
2100
114
4
2500
Applications of Ground Screw Pole Anchor:
1. Timber Construction
2. Solar Powder Systems
3. City and Parks
4. Road and Traffic
5. Fencing System
6. Sheds and Containers
7. Garden and Leisure
8. Flag Poles and Marks
9. Board and Banners
10. Event Structures