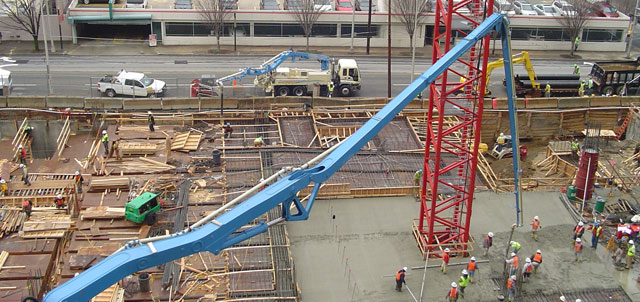 Reliability, safety and efficiency
are more important than ever for the pumping of ready-mixed concrete. Especially for deadline-bound projects, conveying pipes must not fail.
Single-layer ST52 pipes will wear out within very short periods of time. This results in high costs for service providers in the ready-mixed concrete industry because of downtime due to repairs, service / maintenance work or the replacement of components.
CZPPhave developed and produced conveying pipes, elbows and special delivery line parts for truck-mounted concrete pumps, truck mixers concrete pumps or concrete distributing booms.
Our pipes are checked for their pressure resistance at regular intervals. The hardness of TWIN PIPE pipes is constant over the entire pipe length so that service intervals can be scheduled more easily. All of our products are manufactured subject to the pump manufacturers' specifications.
Since elbows are subjected to heavier wear than straight pipes, CZPPsupplies conveying elbows with a bigger
wall thickness in a two-layer design. The layout and geometry of the elbow are ideally suited for stress. The internal layers of the 700 series are hardened. For the 900 series, the internal elbow is made of a particularly wear-resistant cast alloy. Conveying pipes must not exceed the specified weight in order to ensure that the stability of the machine is not endangered. All CZPPelbows are manufactured in accordance with the weight specifications by concrete pump manufacturers.
In reducers, flow speed and also the pressure is changing. As a result, the wear increases towards the reducer outlet. For this reason, we have optimized the wear protection at particularly critical points, especially for our reducers of the 900 series.