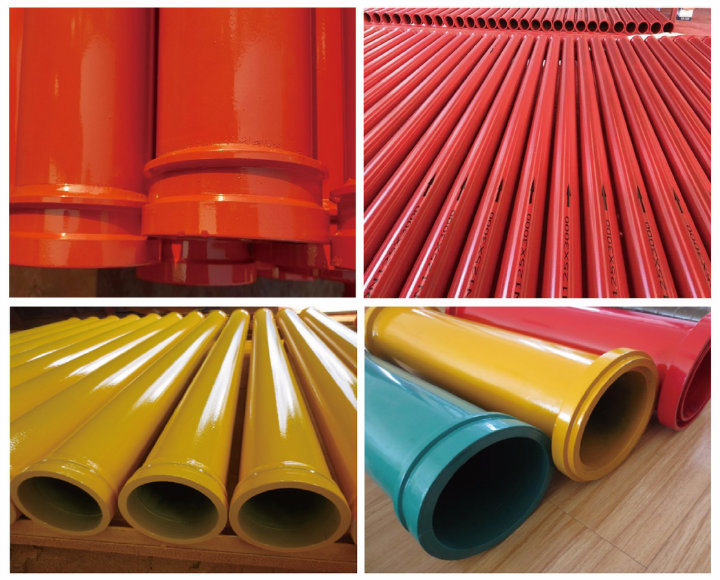 Monday

, 10 Dicembre 2018
by
Admin
Sany Concrete Pump Boom Pipe Complete with weld-on collars at the end
.
Are used for booms
,
ground pipelines and truck pipelines
.
They can be supplied in various types and quality
.
Welded or seamless Quality
: Q235,
No.20
,
ST-52
,37MN5, 45Spessore di Mn2:
from 2mm to 10mm or more Length
:
according to the customers'requirement
.
Normally 1m
,2m,3m,5
m Application
:
The Pipes can be widely used in the construction industry
,
for the Concrete pump placing boom delivery pipe
,
Concrete pump delivery pipe
,
Placing boom delivery pipe and Concrete mixing station pipeline in construction industry
.
Concret Pump Pipeline Systems /Pipe Fitting Parts I Concrete Pump Pipe Details Applications Boom Pipe/Straight Pipe Size DN133x5.0/5.5x Lengths 1.Induction Hardened 2.Wear resistance
,
safety 3.Alloy steel
,
flanged 4.Light-weight design 5.Long life abrasion resistant Truck Mounted Concrete Pump/ Concrete Pump Trucks SANY
,ZOOMLION, PUTZMEISTER, SCHWING, CIFA,
XCMG Weight
>14.5
kg Inside Diameter 124mm Outside Diameter 133mm Tolerance
+/- 1.5
mm Heat treament Induction Hardened Hardness 55~60HRC Depth of induction 1.8~2.3mm Max Working Pressure 17MPa Working Life
>30000CBM (
regular concrete C25/30
)
Material 45Mn2 or Low alloy high strength steel seamless steel pipe Origin China Leadtime 3~7 days Twin-wall Boom Pipe Size DN133x5.0/5.5x Lengths 1.Twin wall =wear resistant pipe liner+steel shell 2.Chorme carbide liner protects aginst flowturbulence providing longer life liners
. 3.
Flanged with hardened steel insert weld on ends Weight
>14.5
kg Inside Diameter 124mm Outside Diameter 133mm Tolerance
+/- 1.5
mm Heat treament Induction Hardened Hardness 60~64HRC Max Working Pressure 17MPa Working Life
>60000
CBM concrete Material Outside
:
Low alloy high strength steel
(45Mn2) All'interno:
High wear-resistant alloy steel
(65MN)
Lined steel pipe Origin China