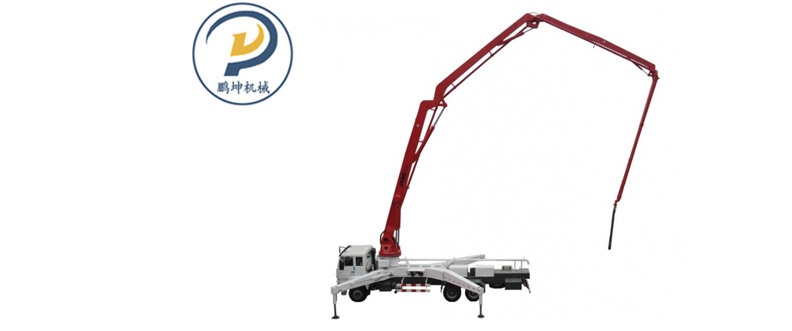 Concrete placing boom is a new product developed for enlarging the range of concrete pouring and improving the mechanization level of pumping construction. Being corollary equipment of concrete pump, it increases the range of concrete pumping by connecting with concrete pump; also, in effectively solving the hard problem of material distribution in wall pouring, it plays an important role in increasing construction efficiency and reducing labor intensity. This kind of concrete placing boom is reasonably designed, with stable and reliable structure, and the whole machine can be easily operated and flexibly turned due to its all direction and boom-type distributing structure, featuring character of high efficiency and energy-saving, as well as being economical and practical, etc.
In order to extend the placing range of concrete pump and enhance the mechanization of pumping construction, our company have researched and developed the new products-a series of spider concrete placing boom HGY-13, HGY-15,HGY-18 and HGY23 (the number is the placing radius)
The spider concrete placing boom is the assorted equipment of concrete pump. Its application extends the delivery range of concrete, efficiently solves the problem of wall painting and plays an important role in enhancing construction efficiency and reducing the labor intensity.
spider Concrete Placing boom jib assembly, the working device of the placing boom, is composed of three collapsible arms, namely, I arm, Ⅱ arm and Ⅲ arm.The jib is a box shaped welded structure. Each arm is driven by the hydro-cylinder to stretch out and draw back so as to satisfy the demand of placement at different places. Arms and connecting rods are interlinked by hinge pins and equipped with sliding bearings.
Spider Concrete Placing Boom
Spider concrete placing boom
Spider concrSpider Concrete Placing Boomete placing boom It includes Manual Concrete Placing Boom 10m, 12m, 15m, 18m,
Electric Concrete Placing Boom
10m, 12m, 15m, 18m and Hydraulic Concrete Placing Boom 12m, 15m, 17m, 21m, 24m, 28m
It can be placed according to needs of field pouring.
Compact structure, light weight, and can be hoisted and transported as a whole.
Flexible, widely use and applicable for complex construction site.
Easy operation, safe and reliable, economical and practical.
 Item
PK15
PK17
PK18
(m)Max. placing radius
15
17
18
(m)Big arm length
6
6.66
7.66
(°)Big arm elevation
0~70
0~65
0~65
(m)Medium arm length
5
5.73
5.73
(°)Medium arm elevation
0~180
0~180
0~180
(m)Small arm length
4
4.61
4.61
(°)Small arm elevation
0~180
0~180
0~180
(m)Hose length
3
3
3
(mm) Concrete delivery pipe
ø 125×6
ø 125×6
ø 125×6
(m)Tail Rotary radius
2.81
3.51
3.93
(Kw)Total Power
4
5.5
5.5
(MPa)System Pressure
24
24
24
(r/min)Rotary speed
0.3—0.8
0.3—0.8
0.3—0.8
(°)Rotary range
0~360
0~360
0~360
(m)Supporting legs span
4×4
4.6×4.6
5×5
(m)Overall height
2.6
3.2
3.75
(kg)Bare machine weight
3230
5000
6700
(kg)Balance weight
2×1100
2200
2×1100
Control mode
Panel/ Wireless remote control
Main features of Spider concrete placing boom :
Matched with a trailer concrete pump, it can achieve continuous and rapid concrete placement.
Connected to a trailer concrete pump by virtue of delivery pipelines, it is suitable for different job sites.
It is low investment, low cost, easy maintenance, and good economy.
Having a truck-mounted concrete placing boom is equal to possessing different combinations of concrete pumping, which means high productivity and full utilization of equipment.
A trailer concrete pump is directly connected to the rear of the placing boom, and thus constitutes an "economy truck-mounted concrete pump", which replaces a real one, and reduces sharply the cost of concrete pumping.
When mixing concrete on site, put a trailer concrete pump under the outlet of a concrete mixing plant and then connect the pump to the placing boom by means of delivery pipelines, thereby eliminating the need for truck mixers, reducing significantly the construction cost and maximizing the efficiency.
◆It can be placed in suitable places required without being fixed.
◆It features compact structure, light weight and can be lifted as a whole by a crane.
◆With excellent maneuverability, it can meet the requirements for concrete placement on different job site, and is ideal for concrete pumping and placing
◆Easy operation , reliable safety and economical purchase