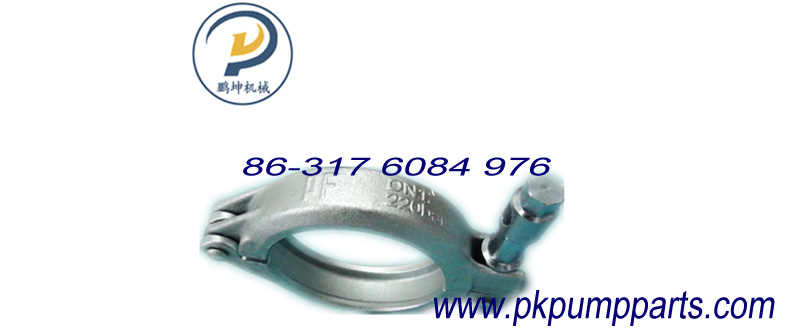 CZPPspecialize in offering a superior assortment of Industrial Concrete rubber end Hoses, which is in compliance with the prevailing industry standards. Manufactured using fine raw material, these products can be availed from us at economical prices. Our quality controllers rigorously test the entire range in order to offer an impeccable end product.
Concrete Pump Clamp coupling is used to connect the two end flange in order to connect two pipes to delivery the concrete. There are many kinds of Concrete Pump Clamp Couplings, such as casted clamp coupling(bolt clamp coupling, mounting clamp coupling), forged clamp coupling( snap clamp coupling, adjustable clamp coupling, bolt clamp coupling, mounting clamp coupling, wedge clamp coupling, rased lever clamp coupling) and so on. Product Range Covers Various Sizes and types. The most common sizes are DN50 (2inch), DN80 (3 inch), DN100 (4 inch), DN125(5 inch), DN150(6 inch), other sizes available. Casting and forged type available.
Material: 40Cr
Size: 2″-8″
Technics: Casted or Forged.
Flange: Sk/HD/ZM/FM type flange
Brand: Putzmeister, Schwing, Sany, Zoomlion and so on.
Working pressure: 130bar
Surface: Painting or Galvanizing
Application: Connection of concrete pump and pump truck pipeline.
Concrete pump clamps Couplings in Type-HD
1.5″ clamp HD
2″ clamp HD
3″ clamp HD
4″ clamp HD
3″clamp HD (adjustable)
4″clamp HD (adjustable)
2.5″ clamp HD
5″ clamp HD
5″ clamp HD (adjustable)
Concrete pump clamp in Type-Bolt& snap
Bolt Clamp 2″
Bolt Clamp 3″
Bolt Clamp 4″
Bolt Clamp 5″
Bolt Clamp 6″
Bolt Clamp Boom Bracket Type 5″
Two Bolts Boom Clamp 5″
Snap Clamp 2″
Snap Clamp 3″
Snap Clamp 4″
Snap Clamp 4.5″
Snap Clamp 5″
Snap Clamp 6″