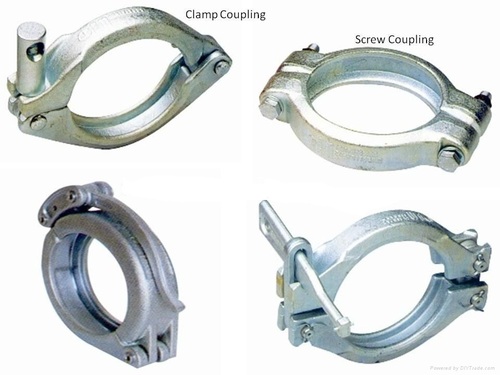 Product model: DN50 DN80 DN125 DN114 DN116 DN140 DN150 DN180
Target: Concrete pump 31 Zhong Lian Elephant xugong products use: Conveying concrete
Manufacturing Process: Casting
Product Introduction: Tuka also known as clamp, clamp connection is a new type of steel pipe connection, also known as Groove connectors, with a lot of advantages, the best casting, connecting the weight of the pump tube clamp, the weight of the big words, under pressure, so the quality of general and pump tube clamp supporting the use of rubber ring, rubber ring to seal the role, is very important accessories, cheap , but the role of a larger, concrete pump tube, is the top of the pump tube clamp, is the pump directly connected with the clamp, used to fix and seal the interface, so that the pump tube can be properly transported concrete.
concrete pump pipe clamp material, generally are ordinary casting, cast, and then sandblasting dyeing, plus screws and accessories, made a set of pump tube clamp.
Professional production: concrete pump pipe clamp, 125 concrete pump pipe clamp, 125 concrete pump pipe clamp, 125 high pressure pipe clamp, low pressure pipe clamp, 150 pipe clamp,
Pump car tube clamp, 150 pipe clamp, (Xugong) 200 pipe clamp, 180 pipe clamp, (special for the pump car)
Other tube clamps, fast tube clamps, seat tube clamps, big mother screw pipe clamp, hoop, clamp, clamp pipe Clamp
1, according to the technology (1) Advantages of the casting tube clamp: Casting is the process of making the parts that have the desired shape and performance by pouring the molten metal into the casting mould and cooling and solidifying.
Foundry is a commonly used manufacturing method with low manufacturing cost and flexible process, and can obtain complex shapes and large castings. (2) Advantages of forged pipe clamp: Compared with castings, metal can improve its microstructure and mechanical properties after forging.
After the deformation and recrystallization of the metal by the forging process, the casting organization the original coarse dendrite and columnar grains into thin grains, homogeneous equiaxed recrystallization, so that the original steel ingot segregation, porosity, porosity, slag, such as compaction and welding, the organization becomes more close, improve the metal plasticity and mechanical properties
Pipe clamp Category: U-Tube Clamp:
Groove Pipe Clamp:
Groove Rigid Clamp
1: Structure: By the seal ring, clamp and lock bolt groove composition. 2: Groove Clamp According to the use of materials can be divided into: rigid groove-type clamp, groove-type Clamp Connection advantages: The complex pipeline connection process becomes simple, fast, easy to operate simple, the original characteristics of the pipeline unaffected, conducive to construction safety. Groove-type clamp can be sealed structure design, so that groove connectors have good sealing, and with the increase of fluid pressure in the tube, the sealing of the corresponding enhancement.
Groove clamp can be used in fire-fighting water system, air-conditioning hot and cold water system, water supply system, petrochemical piping system, thermoelectric and military piping system, sewage treatment pipeline system and other industries. 3: The company trench pipe fittings by Huaan Insurance company Underwriting, the quality can be assured to use!