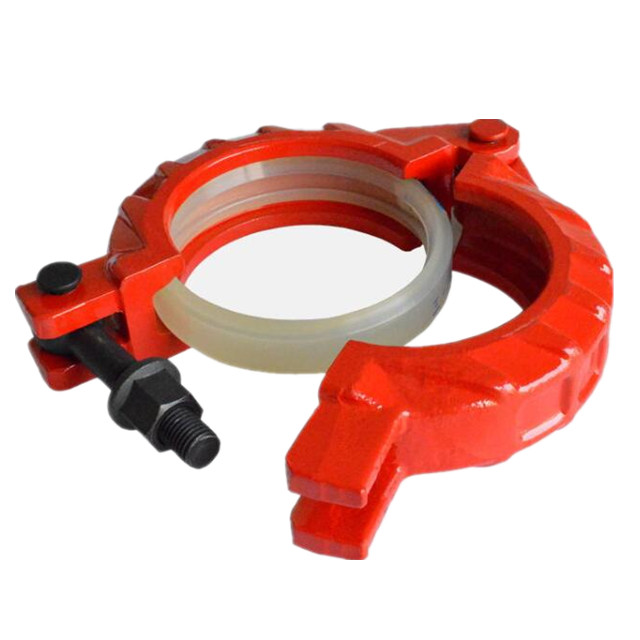 There are best quality concrete pump wedge clamp coupling for Concrete Pump Pipeline, this kind of wedge clamp coupling always have 5″,6″ and 7″ size, that is DN125/DN150/DN180 size. Also have forged clamp coupling and precision casted clamp coupling, this kind of plug clamp coupling is schwing brand, we exported this clamp to India schwing. DN125 wedge clamp coupling with 166mm FM flange, DN150 wedge clamp coupling with 195mm FM flange . size is standard.Working pressure is 130bar, burst pressure is 220bar.
Concrete pump adjustable clamp coupling, concrete pump quick clamp coupling , concrete pump snap pipe fittings, concrete pump mounting clamp coupling, concrete pump raised lever clamp coupling!
Item: forged steel concrete pump pipe clamp couplings
Size: DN125mm(5″)
Material: 40Cr
Weight: 3.9kg/pcs
Process: forged and baked
Working preesure: 130bar
Apply flange size: SK148mm
Parts: safty pin
Advantage: durable,light and low price
Application: Concrete pump pipe clamp are used for coupling concrete pump pipelines.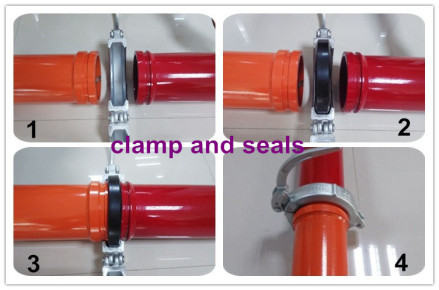 DESCRIPTION
SPEC
FLANGE SIZE
Forged Screw coupling DN125 5.5″,WITHOUT PEDESTAL
low pressure
148
high pressure
157
Forged quick snap coupling DN125 5.5″
low pressure
148
high pressure
157
Forged quick snap coupling DN100 4.5″
low pressure
124/128
Forged SCREW coupling DN125,(center hight 100MM)
low pressure
148
Forged SCREW coupling DN125,(center hight 105MM)
low pressure
148
Forged QUICK SNAP DN125,with pedestal
low pressure
148
Forged SCREW coupling DN150
high pressure
185
Forged Adjustable coupling DN125
low pressure
148
Forged SCREW coupling DN175 with pedetal
low pressure
201
Forged TWO BOLTS coupling DN125
low pressure
149-150
Forged Wedge coupling DN150
low pressure
201-220
Forged quick snap coupling 3″
low pressure
90
2″ Casted coupling
low pressure
48