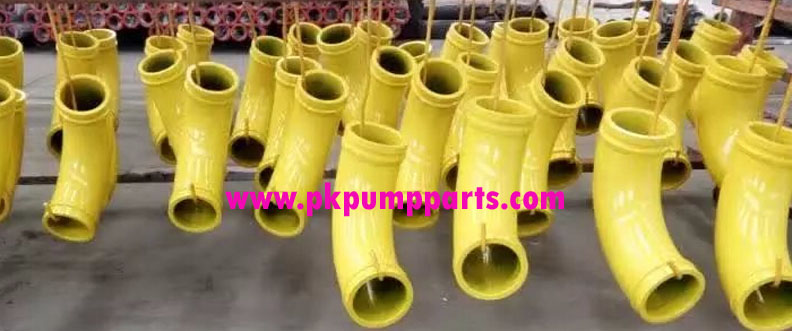 Specifications:
Material: high manganese Mn13
Weight: 16kg (14kg,15kg,18kg can produce)
Processing way : casted
Size: DN125*R275*90D (60/45/30/15/10D can produce)
Flange size : SK148mm ( HD,ZX,MF can do)
Referece lifetime: 15000-18000CBM.
Allow aggregate maximum particle size : 15mm
Connection type : clamp
Cleaning way : use cleaning ball
Types: our concrete pump elbows mainly include single wall elbows, double layer(twin walls) elbows,wear-resisting elbows, advanced technology, work life long.
Pump Brand: Schwing, Putzmeister, Kyokuto, CIFA, Sany, Zoomlion
Technology: Concrete pump elbow,bend pipe is quenched and carried out carburizing chemical treatment on the inner wall. So it has high wear resistance.Twin walls elbow the inner layer is made of high hardness wear resistant alloy steel by hear treatment and the outer tube is high toughness and low hardness and low carbon steel,which can guarantee the construction safety.
Wear-resistant Single or Double Concrete Pump Elbow

Type

Singe Elbow

Double Elbow

Model

DN125

DN150

DN175

DN125

Material

Casting Steel ;ST52

Inside 40Cr

Outside

R275*90°

R275*

+110

36°

F2000

R275*90°

R275*90°+110

R275*45°

R275^90c+211
R400*30c

A3000

R275*45°

R275*90°+211

R275*25°

R275W+411

R400M5C

471B

R275*25°

R275*90°+411

R275*20°

R275*90c+424

R400*30°

571B

R275*20°

R275*90°+424

R275*15°

R275*45c+170
R488#90c

A1000

R275*15°

R275*45°+170

R240*36°

20°Lengthen

R240*36°

20°Lengthen

R240*30

。

25o+740

R240*30°

25e+740

R240*15°

40°Zoomlion

R240*15°

40cZoomlion

R385*29°

R385*29°

R315*33°

R315*33°

Technic

Forged

Average life 25:000cubic
50:000cubic
Applications
Petroleum,chemical,power,gas,metallurgy, shipbuilding, construction, etc
Features of CZPPConcrete pump elbow
1. Concrete pump elbow for boom pump, trailer pump, stationary pump, truck mounted pump
Twin wall elbow 's service life and working pressure are better than the casting. Besides, We can supply 90D, 45D, 30D, 25D, 20D, 15D, 10D. And it can be used for PM, Schwing, Cifa, Sany, Zoomlion ect.
2. Chromium alloy iron casting enables the liner highly wear proof and reduce pressure
3. Designed structure, material and process realize its 3-5 times service life of common products
4. Seamless welding enables the the outer layer hard to explode
5. Light weight improves vehicle efficiency, highly reduces labor and cost and the time for replacement
6. Twin wall elbow 's service life and working pressure are better than the casting. Besides, The Twin wall elbow's structure ensures high abrasion resistance and toughness.
7. to extend the service life of other pipe fitting
8. Easy to use and handle
concrete pump pipeline specifications
concrete pump pipe suppliers
concrete pump hoses for sale
concrete pumping equipment accessories
concrete pump parts suppliers
concrete pump hose clamps
concrete pump hose fittings
con forms