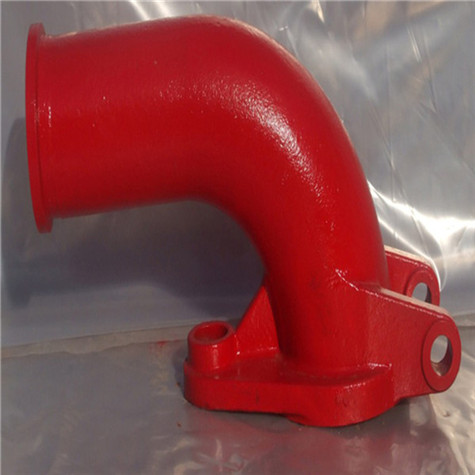 On the Concrete Mobile Pump , there is not only normal elbow bend , also have 1#,2#flap elbow on it. We have Putzmeister 1# flap elbow, 2#elbow, zoomline concrete pump hinge flat elbow, Sany concrete pump flap elbow and so on. This kind of concrete pump hinge flat elbow material is same with normal elbow material, which is made by 45Mn2 and high manganese steel, but this flap elbow usually service life is longer, and more thicker , especially the concrete pump end elbow, service life is 50000cbm-80000cbm , the harness is more , about 65HRC, when the mobile pump working, the flap elbow undertake much more pressure, so , this foldable elbow is service life and quality is more better than normal one!
90 degree concrete pump pipe elbow
Putzmeister,sany,schiwng,zoomlion ihi brand .
Material:Hi-Mn13,20#steel,st52,etc
Size:DN 125mm or DN 150mm (R275,R225,R315,etc)
Degree:90, 60,45,30,15
Quality:cast manganese
Servive Life:25,000-30,000cubic meters
Types:our concrete pump elbows mainly include single wall elbows, double layer(twin walls) elbows,wear-resisting elbows, advanced technology, work life long.
There are different kinds of Concrete Pump Elbow: normal concrete pump elbow, concrete pump wear resistent elbow and concrete pump flap elbow
| | |
| --- | --- |
| Product Name: | Concrete pump elbow |
| Material: | High Manganese |
| Degree: | 90d,45d,30d,20d,15d,10d etc |
| Model: | DN125(5"),DN150,DN175 |
| Inter wall thickness: | 8mm |
| Outer wall thickness: | 3mm |
| Application: | All kinds of concrete pump |
| Others: | As per your request |
Description:
Type
Single elbow
Twin wall elbow
Applicable Pump Brands
Modle
DN125

(5")

DN125

(5")

Putzmeister, Schwing,kcp,Sany,

Zoomlion etc.

SIZE

R275*90D
R275*90D
R275*45D
R275*45D
R275*30D
R275*30D
R275*25D
R275*25D
R275*20D
R275*20D
R275*15D
R275*15D
R275*10D
R275*10D
CZPPis one of the leading supplier and manufacture of the Concrete Pump Pipeline, especially the Concrete Pump Pipe , concrete pump elbow, Concrete Pump Reducer Pipe, Concrete Pump Rubber Hose and so on.