concrete Pump pipe calculation method concrete Pump pipe specifications and precautions
The concrete Pump pipe is a very easy to damage pipe fitting. If some concrete Pump pipe are damaged after replacement, let us introduce the precautions when replacing.
  1. Make a chute according to the discharge port of the mixing machine and the hopper of the wear-resistant pump pipe machine, so that the material discharged from the mixing machine and the machine can enter the hopper of the pump through the chute.
    2. In the placement of the chute, the slope is required to be appropriate, and the inclination angle is preferably between 25° and 40°, and the drop is not too large.
   3. When the chute is connected with the pump hopper, the chute and the hopper should have a certain space to facilitate cleaning the hopper and the sieve.
    4. First place the concrete pump on a solid concrete floor or stone pier, maintain the degree, and lock the positioning pins of the four legs of the pump and the safety pin to make the tire off the ground or remove the tire.
    5. Under normal circumstances, it is necessary to raise the height of 20CM on the hopper of the wear-resistant concrete Pump pipemachine, so as to increase the volume of the hopper to ensure that the concrete will not flow out. Because the forced mixing machine and the unloading of the machine are preferably discharged at one time, the concrete flowing into the hopper is more uniform. If the material is discharged in several stages, the last concrete stone is too much, and the pumping is unlucky, especially when the slump of concrete is large, it should be noted that the hopper of the pump should be raised. If it is a large-volume mixing machine, a storage hopper can be made in advance to ensure continuous feeding.
   6. The chute is usually made of angle steel and welded with 1.5mm thick steel plate. The bottom of the chute is supported by a support to make it firm.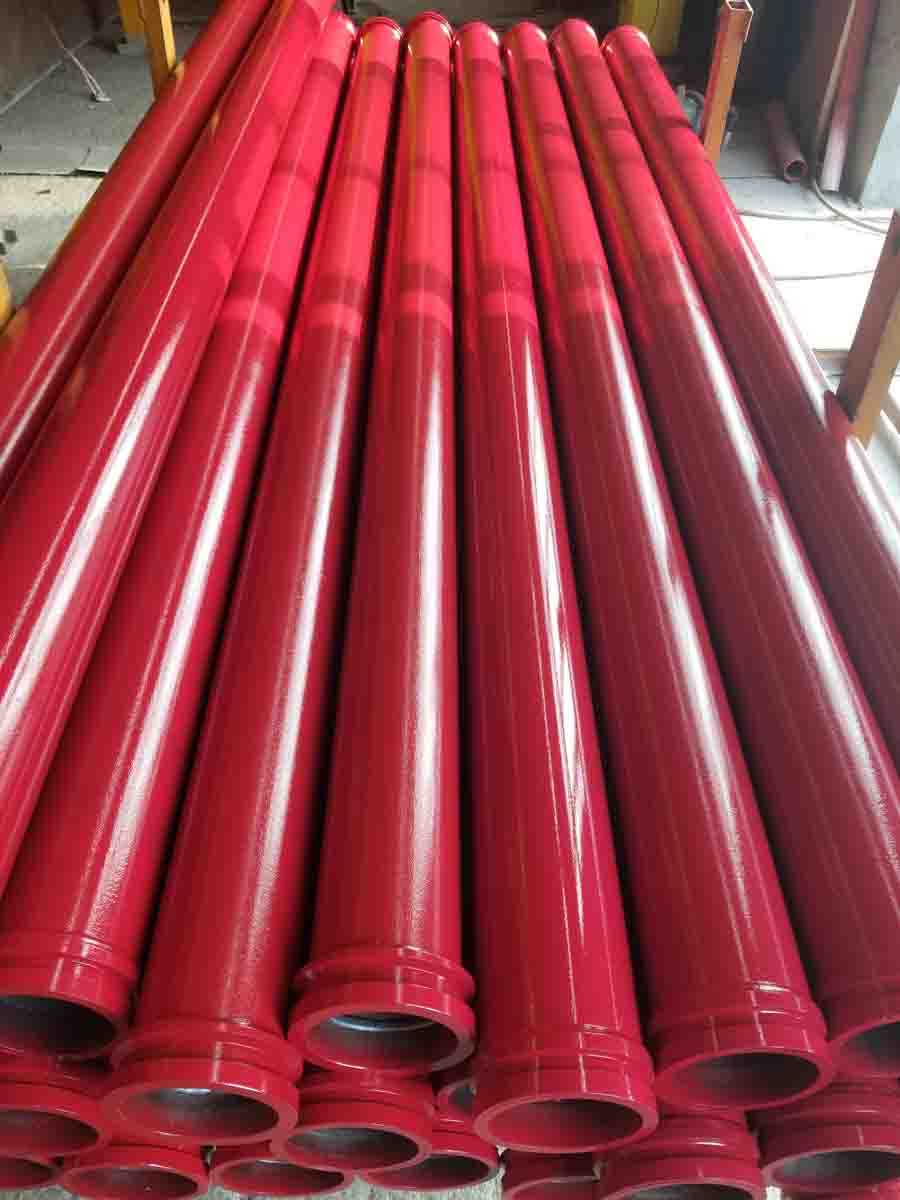 The concrete Pump pipeis generally divided into two types, 125 and 150, and the two types have high pressure and low pressure. The low pressure type of the 125 type concrete Pump pipeis the tube with the outer diameter of Φ133, the high pressure is the tube with the outer diameter of Φ140; The low pressure type of the concrete Pump pipeis a pipe with an outer diameter of Φ159, and the high pressure is a pipe with an outer diameter of Φ168. The pipe head of the pump pipe is a specially processed pipe joint, which is connected to the pipe body by welding, and the connection of each pipe is The pipe clamps are connected by the precision casting process. The pipe heads of the pump pipes are specially processed pipe joints, which are connected to the pipe body by welding, and the connection of each pipe is a pipe card processed by a precision casting process. Come connect. Compared with solid steel such as round steel, 砼 pump pipe fittings are lighter in weight when they have the same bending and torsional strength. They are economical cross-section pipe fittings and are widely used in the manufacture of structural parts and mechanical parts. Manufacturing ring parts with concrete Pump pipefittings to improve material utilization and simplify manufacturing processes