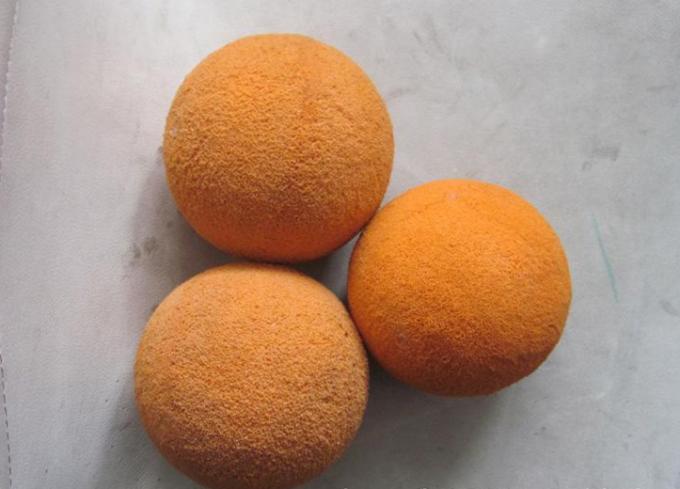 The sponge pipe cleaning ball is designed to wipe drill pipe or tubing string clean of cement, fluids, or debris, and can be used to separate fluids. These sponge pipe cleaning balls are made of natural rubber and can be used in a temperature range of 40°F (4°C) to 302°F (150°C). The ball has a parting stretch of 380 to 440%, which means it can pass through small restrictions without being damaged.
The wiper ball can be loaded into drill pipe or tubing connections. It easily passes through internal upset restrictions such as mechanical setting tools, diverters, and liner running tools, and multiple balls can be pumped if necessary. Foam wiper balls have been used with all types of drilling and displacement fluids.
Name
concrete pump parts /cleaning rubber ball /concrete pump pipe cleaner

Material
Natural rubber
Size
50mm,60mm,65mm,80mm,100mm,125mm,150mm,180mm
Color
any
Logo
OEM & ODM orders are welcome
Package
Plastic bag & carton or follow your requirements
Application
used to cleaning concrete pump pipeline
Delivery
7 days-10days
Note
1.Models and Logos can be Customized according to your Requirements

2.Designs and Specification are Accepted
Cleaning pig
These are especially suitable for stationary delivery lines for concrete and industrial pumps with large pipe elbows. These cleaning pigs are especially used when there is danger of material deposits.
Sponge cube
cost effective alternative to sponge ball
available in edge lengths of 200 – 250 mm for delivery-lines 100 – 200 mm diameter.
Sponge ball
used for suck and pressure cleaning of concrete lines.
available for all diameters from 25 – 250 mm.
especially used for tight delivery elbows (radius smaler than 175°)
best cleaning results.
Sponge pig
also used cleaning of concrete lines.
diameters from 25 – 250 mm. Songe pigs are a bit more expensive, but have highest cleaning results do to larger cleaning surface.
Sponge cylinder
-more effective cleaning due to higher contact surface (hub) inside of the pipe
-you need 2x sponge balls for same cleaning performance
-cylinder is a low-cost alternative to sponge pig cylinder
Feature
1. It is mainly used for cleaning all kinds of diameter of pump pipe cleaning tool,
maintenance of pipeline cleaning, made channel is more unblocked, unimpeded.
2. Greatly improving the work efficiency.
3. Prolong the service life of the various diameter pipe