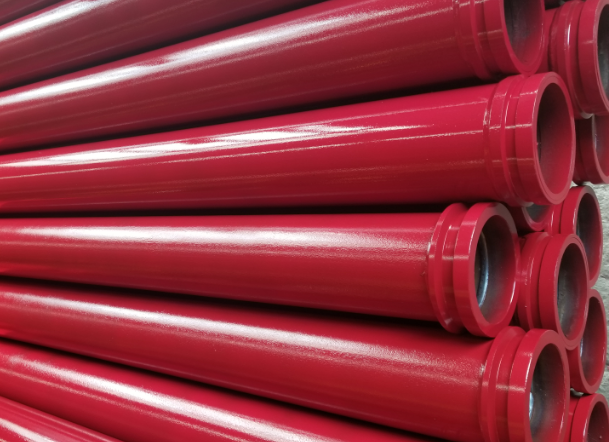 concrete pump pipeline are made from high grade steel, iron and other metals combined together in the right proportion. These metals and raw materials are quarried and imported from across the world. They are premium grade materials are then tested by our quality inspectors and then later used to manufacture concrete pump pipeline. Then an extra coating is applied, depending on the utility of that pipeline. Once the product is made, it again goes three to four quality tests based on various international parameters to ensure it adheres to the international standards set by the industry. These are extremely low maintenance pipelines, created to keep you relaxed once fit in the premises.
Available Type & Size: ZX pipe, HD pipe, harden pipe, ST52 pipe, and many more. Available in all sizes.
How to avoid concrete pipe plugging?
1. After replacing the new pipe, in order to avoid blocking the pipe, the pressure can be increased by 2-3MPa for the pump pipe; after the 3000-4000 cubic meter is delivered, the pressure will be restored to normal.
2. When conveying gravel commercial concrete, do not fill the top 3000 squares, so that the material in the pipe does not exceed 40%.
3. During the waiting period, the air pump should be used several times to avoid blocking the pipe.
4. After the operation is completed, all the commercial concrete in the pipeline should be output, then the pipeline should be washed, and the sponge ball should be washed carefully to avoid blockage.
       What should I do after plugging?
1. When the pipeline is blocked, it is not advisable to strike the pipeline with force. The reverse operation method can be used to eliminate the pipeline blockage. When it is invalid, the pipe should be cleaned.
2. If conditions permit, it is recommended to connect the entire set of pipes to another boom pump to clear them. If the conditions are not available, you can remove the DI YI arm 90 degree elbow, tap the 3m straight pipe, and take out the commercial concrete that blocks the pump tube.