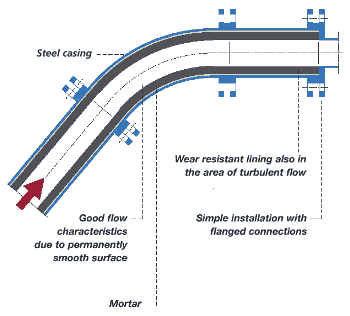 A wide range of different materials with different characteristics can be chosen to protect against wear. Pipe linings made of mineral, metallic or ceramic materials have proven to work well.
Proper Abrasion Protection for Hydraulic and Pneumatic Conveying Lines
Wear and abrasion protection materials. To achieve both technical and economical wear protection, many factors have to be taken into account. The choice needs to be based on the application. The best solution for long life and economical abrasion protection depends upon the proper selection of the wear resistant pipe linings as well as a knowledge of expected cost.
Ceramic sleeve lined Pipe bending
The ceramic tube or ceramic sleeve sintered as a whole part, and then assemble it into the steel pipe with our high-strength-temperature-resistant epoxy adhesive. The ceramic sleeve lined pipe has a smooth inner wall, excellent tightness as well as good wear and chemical resistance ability.
Advantages:
1.Superior wear resistance
2.Chemical and impact resistance
3.Corrosion resistance
4.Smooth inner wall
5.Easy installation
6.Saved maintenance time and expenditures
7.Longer service lifetime
Weldable ceramic tile lined pipes
With self-locking shape ceramic tiles installed into the bend or pipe by inorganic adhesive and as well as stud welding. This solution can prevent the tiles from high abrasion as well as falling off in high temperature under 750℃.
Applicable scope:This kind of pipes is usually used for high temperature and high abration material transport system.
Ceramic tile lined pipe
This kind of ceramic tile lined pipe consist of three parts (steel pipe + adhesive + ceramic tiles), the steel pipe is made of seamless carbon steel pipe. The ceramic tiles are 95% high alumina, and the bonding is high temperature epoxy adhesive up to 350oC.This kind of pipe are suitable for the powder transport without tile falling off or aging working under 350oC for long time. The service life span is 4 to 5 times than normal steel pipe.
Applicable scope:These Pipes used for Pneumatic and Hydraulic Systems are suffering from high wear, high sliding and high impact, especially for the elbows. We can also design the custom pipe fittings to meet different working applications.
ceramic pipe fittings
ceramic lined pipe manufacturers india
ceramic lined pipe australia
abrasion resistant pipe elbows
silicon carbide lined pipe
ceresist