Concrete Pump Pipe for Concrete Delivery
Material: 45Mn2 / 55Mn
Wall Thickness: 4.5/ 5.0/ 7.0mm
Length: 1m, 2m, 3m, or according to client's requirements
Complete with SK 148mm twin wall flange, HD, PM ZX 175mm, Schwing MF 166mm, Sany 157mm, Zoomlion ZX etc.
Welding technique: automatic welding
Surface Treatment: powder painted and baked
Working Pressure: SK type: 85-120 bar ZX type: over 130 bar
Hardness: 58-62 HRC ( 55Mn: up to 65 HRC)
Life Time: 30,000-35,000 CBM in China, 40,000-45,000 CBM in Korea. It is subject to the influence of various factors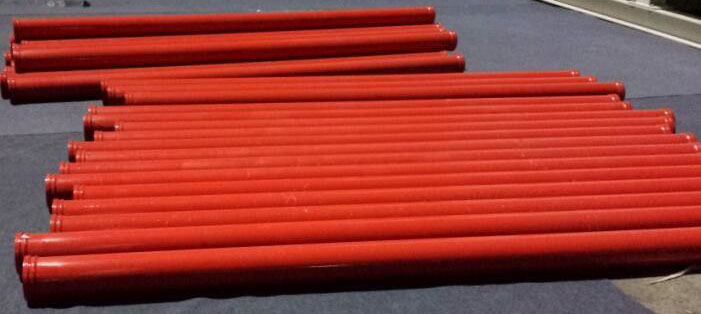 Features:
Dimensionally accurate
Easy installation
Reliable performance
Concrete Pump pipe is generally divided into DN80,DN125 and DN150.
DN80 pipe is mainly for sand blasting;
DN125 and DN150 are mainly for concrete handling and delivery.also both have high pressure and low pressure types.
Specification for Concrete Pump Pipe for Concrete Delivery general sizes :
Name 
size 
Thickness(mm)
Length (M) 
ST52 concrete pump pipe 
 DN125  
4.5
3
DN125
5.0
3
Concrete pump hardened pipe 
DN125
4.5
3
DN125
4.8
3
DN125
5.0
3
DN125
7.0
3
Concrete pump twin wall pipe 
DN125
2.5+2
3
DN125
3+2
3
DN125
5+2
3
ZX Concrete pump pipe 
ZX5″
6.0
3
ZX5.5″
7.1
3
FM5″
6.0
3
FM5″
7.1
3
| | | | |
| --- | --- | --- | --- |
| S-Valve | Glasses Plate/spectacle plate | Cutting Ring | Elbow |
| Bent Pipe/Bended Pipe | 3m Straight Pipe  | Dust Proof Ring | Remote Controller |
| Battery Charger | Battery | Bearing | Piston Head |
| End Bearing | Piston | Seal Kit | Rubber Spring |
| Pipe Clamp | Balance Valve | Half Shaft | Bushing |
| Electric PCB | Sphonge Ball | Oil Filter | Outlet Elbow |
| J-Ring | Bearing Seat | Cover | Guiding Ring |
| Rubber Delivery Hose Pipe | Hydraulic Pump | Eaton Motor | oil separator distribution valve |
| Gear Pump | Boom Pump | Concrete Pump Boom | Accumulator |