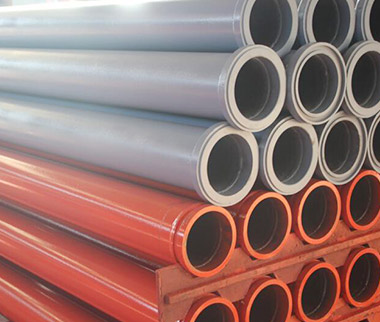 Concrete pump pipe is a spare part of concrete pump truck and concrete pumps.it improves the efficiency of construction, increased nearly a hundred times in concrete placement. It is also called Straight Pipe.
Concrete Pump pipe is generally divided into DN80,DN125 and DN150.
DN80 pipe is mainly for sand blasting;
DN125 and DN150 are mainly for concrete handling and delivery.also both have high pressure and low pressure types.
concrete pump pipeline specifications
1.Material: 45Mn2,55Mn ,65Mn,20# steel…
2. Sizes: DN80-DN150 (mm unit),generally 125mm
3. Length: 1m,2m,3m, 6m or according to clients' requirements.
pecification for general size :
Name 
size 
Thickness(mm)
Length (M) 
ST52 concrete pump pipe
 DN125
4.5
3
DN125
5.0
3
Concrete pump hardened pipe
DN125
4.5
3
DN125
4.8
3
DN125
5.0
3
DN125
7.0
3
Concrete pump twin wall pipe
DN125
2.5+2
3
DN125
3+2
3
DN125
5+2
3
ZX Concrete pump pipe
ZX5″
6.0
3
ZX5.5″
7.1
3
FM5″
6.0
3
FM5″
7.1
3
Dn125 St52 Putzmeister Concrete Pump Pipeline with 148mm Flange
FOB Price: US $18-58 / MeterMin. Order: 1 Meter
Dn125X3mx4.5mm Concrete Pump Pipe/Delivery Pipeline/Pump Tube
FOB Price: US $18-58 / MeterMin. Order: 1 Meter
Wear Resisting 5′′ 6′′ 4′′ Concrete Pumping Pipelines St52 Pipe for Sale
FOB Price: US $18-58 / MeterMin. Order: 1 Meter
Forged and Casting Concrete Pump Pipe Fittings Snap Clamp Couplings for Sale
FOB Price: US $15-50 / MeterMin. Order: 1 Meter
High Quality Concrete Pump Pipe Rubber Gasket for Pipe and Flange
FOB Price: US $1-3 / MeterMin. Order: 1 Meter
Deck Pipeline Delivery Collar Harden Line Seam Weld Welden Zx Dn125 Straight Pipe for Concrete Pump
FOB Price: US $18-58 / MeterMin. Order: 1 Meter
2′′ ~6′′heavy Duty Concrete Pump Pipe Fittings Adjustable Snap Couplings
FOB Price: US $15-50 / MeterMin. Order: 1 Meter
Dn125 5′′ Casting Forging Concrete Pump Pipe Clamp
FOB Price: US $15-50 / MeterMin. Order: 1 Meter
Concrete Pump Pipe Fittings Snap / Bolt Flanged Clamp Couplings Manufacture
FOB Price: US $15-50 / MeterMin. Order: 1 Meter
Wear Resisting Concrete Pump Boom Reducer Pipe
FOB Price: US $15-50 / MeterMin. Order: 1 Meter
High Quality Dn125 5′′ Dn150 6′′ Concrete Pump Pipe Clamp Coupler for Sale
FOB Price: US $15-50 / MeterMin. Order: 1 Meter
Dn125/5″ Forging High Pressure Snap Clamp for Concrete Pump Pipe Pm/Schwing/Sany/Zoomlion Brand for Pump Truck and Trailer
FOB Price: US $15-50 / MeterMin. Order: 1 Meter
Putzmeister/Schwing/Sany/Zoomlion Concrete Pump Reducing Pipe for Trailer Concrete Pump
FOB Price: US $15-50 / MeterMin. Order: 1 Meter
China Supplier 2′′ 3′′ 4′′ 5′′ 6′′ Concrete Pump Pipe Clamp Price
FOB Price: US $15-50 / MeterMin. Order: 1 Meter
Forging and Casting Concrete Pump Parts 4′′ 5′′ 6′′ Adjustable Pipe Clamps
FOB Price: US $15-50 / MeterMin. Order: 1 Meter
China Putzmeister Schwing Dn125 Snap Bolt Wedge Forged Concrete Pump Pipe Clamp
FOB Price: US $15-50 / MeterMin. Order: 1 Meter
Concrete Pump Pipe Clamp with Pedestal Support Coupling 5 Inch Dn125
FOB Price: US $15-50 / MeterMin. Order: 1 Meter
Putzmeister Schwing Wear Resistant 6′′-5′′ 5′′-4′′twin Wall Concrete Pump Reducing Pipe
FOB Price: US $15-50 / MeterMin. Order: 1 Meter
China Factory Concrete Pumping Pipe Reducer
FOB Price: US $15-50 / MeterMin. Order: 1 Meter