Hardened Boom Pipe,ST52 Boom Pipe is a spare part of concrete pump truck and concrete pumps.it improves the efficiency of construction, increased nearly a hundred times in concrete placement. It is also called Straight Pipe.ST52 pipe material is usually 16Mn,we have boom pipe and deck pipe.It is used on many different kinds of concrete pump, Putzmeister, schwing, sany, zoomline, and so on .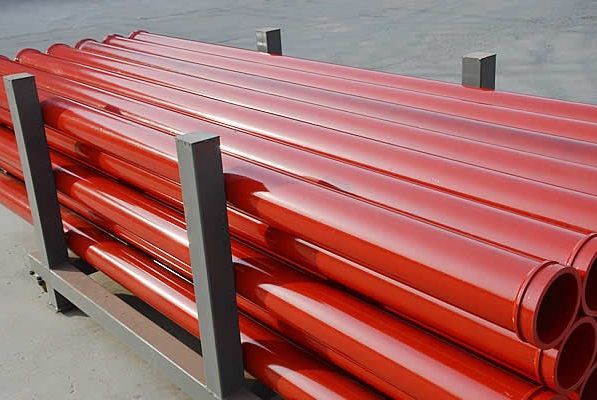 (1) Name: Hardened Boom Pipe,ST52 Boom Pipe,harden pipe
(2) Raw material : 45Mn2
(3) Hardness: 62-63HRC
(4) service life:15000-20000cbm
(5) Size: DN125*4.5mm/dn125*4.0mm/DN125*7.1mm
Specification for general size of Hardened Boom Pipe,ST52 Boom Pipe :
Name 
size 
Thickness(mm)
Length (M) 
ST52 concrete pump pipe 
 DN125  
4.5
3
DN125
5.0
3
Concrete pump hardened pipe 
DN125
4.5
3
DN125
4.8
3
DN125
5.0
3
DN125
7.0
3
 producing process of concrete pump pipe
Cutting pipe -welding-inner wall therough treatment -sand balsting-painting-package-loading
Features of Hardened Boom Pipe,ST52 Boom Pipe
Fittings seamless integration fierce 37Mn5 high alloy pipe, and the high temperature quenching, increasing the wear resistance of the tube head.
Tensile and strong inner rubber smoked sheet, and using new technology, significantly reduces the coefficient of friction within the wall. Extend the service life of the hose.
High tensile strength steel using high-carbon alloy steel cord, increasing the pressure hose, and reduce the weight of the hose, enabling customers to use.
Outer wear-resistant plastic, anti-aging, UV-resistant, strong rubber material, both to improve the wear resistance of the outer plastic, increased the protective effect of the steel skeleton of the outer rubber.