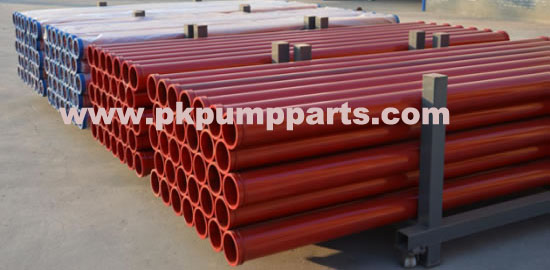 Concrete Pump Boom Pipe is also called in different names by concrete pump pipe,Straight Pipe,hardened pipe,twill wall pipe,single wall pipe,deck pipe,ST52 Pipe..etc.The Concrete Pump Pipe is made of special quality steel which is quenched and carried out carburizing chemical treatment on the inner wall. our pipes meet or exceed all specifications of concrete pipe manufacturers for wall thickness, inner and outer diameter tolerance, weight restrictions, working pressure, and safety. Our new range of high-wear pipe is ideal for mining, tunneling, mills, foundries, and power plants.  ST52 Boom Pipe.
The hardness of the flanged bushings can reach 58-60 degrees and the serving life of pipeline can increase 3-5 times,which enables users to save time and cost, enhancing the production efficiency.
The new pipe's diameter ranges from 3 inches to 10 inches, with larger diameters, up to 24 inches, available upon request. Wall thickness ranges from 0.16 inches up to 0.50 inches.
CZPPboom pipe offering, Wear Resistant pipe has the longest service life on the market and is ideal for high-volume pumping under extreme wear conditions. This ultra wear-resistant pipe is made of a static outer pipe with an inner pipe with heat-treated hardness up to 65 HRc. It is fitted with two patented twin-cast Big Mouth flanges to prevent the radical transfer of destructive wear from the elbow to the straight pipe. A unique welding process results in no heat-affected areas of the pipeline.
Single-wall pipe is hardened to 54 HRC, resulting in a service life which is two to three times longer than ST52. the twin-layer pipe is hardened to 67 HRC.providing an even longer life of five to 10 times that of ST52.
Material: High Manganese casted such as ST52, 37Mn5, 45Mn2
Size: Dia. 133, dia 140, dia. 159, dia 168
Wall Thickness: 2mm to 10mm or more
Series: 125 and 150
Length: 1m, 2m, 3m or according to the customer's requirement
Working Capacity: 25000-35000cbm
Single wall
Type
OD133*4.0*3000
seam/seamless
OD133*4.5*3000
seamless
OD133*5.0*3000
seamless
OD133*6.5*3000
seamless
harden pipe-single
OD133*4.5*3000
seamless
OD133*4.8*3000
seamless
harden pipe-twin wall
OD133*4.8*3000
seamless
OD133*7.1*3000
seamless
Concrete Pump Pipe Specification
Type
DN
Thickness

(mm)

Length

(mm)

Weld-on Ends
Applicable pump Brands
ST52/ST37/20#

/Q235steel pipe

125
4.0

3000/

2000/

1000

148mm
Schwing,Putzmeister, CIFA, Kyokuto, Sany,
4.5
148mm
Schwing,Putzmeister, CIFA, Kyokuto, Sany,
7.0
148mm
Schwing,Putzmeister, CIFA, Kyokuto, Sany,
Twin-Wall Pipe
125
2.0 + 2.0
148mmChrome Carbide insert
Schwing,Putzmeister, CIFA, Kyokuto, Sany,
2.0 + 2.5
148mmChrome Carbide insert
Schwing,Putzmeister, CIFA, Kyokuto, Sany,
4.5 + 3.0
148mmChrome Carbide insert
Schwing,Putzmeister, CIFA, Kyokuto, Sany,
Harden Pipe
125
4.5
148mmChrome Carbide insert
Schwing,Putzmeister, CIFA, Kyokuto, Sany,
7.0
148mmChrome Carbide insert
Schwing,Putzmeister, CIFA, Kyokuto, Sany
ZX-Pipe(ST52)

Harden ZX-Pipe

125
7.0
ZX-5inch

F/M Flanges

Putzmeister

High Pressure

125
7.0
ZX-5inch

F/M Flanges

Putzmeister
Schwing F/M pipe(ST52)
125
4.0
Schwing 5inch

F/M Flanges

Schwing High Pressure
4.5
Schwing 5inch

F/M Flanges

Schwing High Pressure
7.0
Schwing 5inch

F/M Flanges

Schwing High Pressure
8.0
Schwing special F/M flanges
Schwing High Pressure
Steel pipe
100
4.5
3000
122mm/127mm/4inch HD
Others
4.5
2000
122mm/127mm/4inchHD
Others
4.5
1000
122mm/127mm/4inch HD
Others
8.0
6000
6inch HD

/ZX-6inch F/M

Others
150
8.0
3000
6inch HD

/ZX-6inch F/M

Others
8.0
1500
6inch HD

/ZX-6inch F/M

Others
8.0
1000
6inch HD

/ZX-6inch F/M

Others