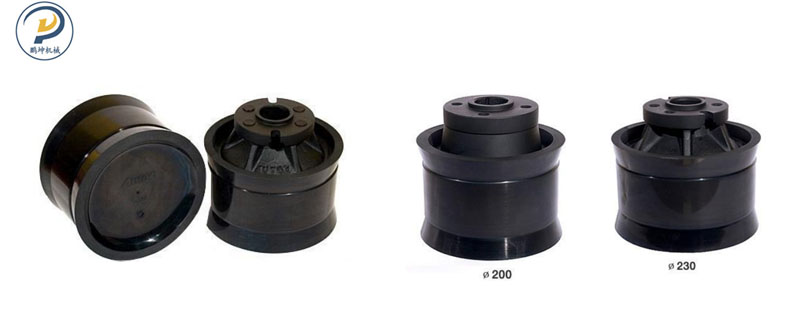 About the Concrete Pump Rubber Piston ram , we have usual Putzmeister, sany, zoomline , schwing, and so on brands rubber piston seal. We also have CIFA concrete pump integral piston ram. We have natural rubber material piston, also have polyurethane material piston, And we can also customrized to produce the rubber ram with one layer of fabric. Our rubber piston is pure natural rubber material. Service life is 20000cbm-30000cbm. And working pressure is about 180bar. this is CIFA dn230 size ,we also have Cifa DN200,DN260 and so on sizes!
1. The unique oil-and solvent-resistant rubber coating assure a longer work-life,even under conditions of heavy use.
2. The perfect seal between the rubber and the steel core, its structural entire and its resistant to abrasion are guaranteed by careful laboratory tests.
Name
Concrete Pump Piston
Size
SCHWING: DN180/200/230/250

PM : DN180/200/230/250

KYOKUTO: DN230/225/205

CIFA: DN180/DN200/DN230

ELBA: DN200/230

ZOOMLION: DN180/200/220/230

SANY: DN180/195/200/230/260/280

Other sizes and types upon customer's requirement.
specifications of CIFA concrete pump piston
1.  Size: DN150, DN180, DN200, DN230…all size are available
2.  Brand: Kyokuto, Schwing,Putzmeister ,Sany, Zoomlion, Sermac, CIFA, Mitsubishi, IHI and Niigata…
3. Material: Polyurethane, Natrual rubber, Steel
4. Lifetime>20,000cbm
Advantages of CIFA concrete pump piston:
High self-lubricating, wear-resistance, high-temperature resistance, high hydrolysis resistance, low friction coefficient, impact and tear resistance
CZPPprovide the following products:
Concrete Pump Pipe Concrete Pump Elbow Concrete Pump Cleaning Ball
concrete Pump Clamp Coupling concrete pump rubber gasket Concrete Pump Wear Plate And Ring
Concrete Pump Rubber Hose Concrete Pump Delivery Cylinder concrete pump outer housing
concrete pump kidney plate concrete pump kidney ring Concrete Pump Wear Sleeve
concrete pump front housing concrete pump main pump concrete pump boom pump
concrete pump plunger cylinder concrete pump hopper complete concrete pump swing lever complete