Recommended For:High-pressure concrete pumping
Tube:Abrasion resistant synthetic rubber
Reinforcement:2"-3" two braids high-tensile steel wires, 3 1/2"-5" four layers spiral high-tensile steel cords.
Cover:Pin-pricked synthetic rubber, Specially compounded Ultra abrasion cover is resistant to abrasion, cutting, gouging and weather.
Type of Coupling:Putzmeister, Schwing, SANY, Zoomline, etc.
Temperature Range:-40°F to +158°F(-40°C to +70°C)
Markets:Construction, Cement Placement
ID (mm)
OD
(mm)
Working Pressure
(bar)
Burst Pressure
(bar)
Bend Radius
(mm)
Weight
(Kg/m)
 
in.
mm.
2
51
68±1.5
85
200
200
2.8
2.5
64
85±1.5
85
200
250
4.0
3
76
102±1.5
85
200
270
6.0
3.5
89
116±1.5
85
200
290
7.5
4
102
130±1.75
85
200
300
9.2
4.5
115
143±2
85
200
320
10.5
5
127
158±2
85
200
360
11.7
6
152
186±2
85
200
570
17.0
Features of DN100 concrete pump delivery rubber hose
Specially developed premium hose for conveying concrete using concrete pumps.
Suitable for conveying highly abrasive media such as concrete, cement and plaster. Long service life due to abrasion
resistant tube. Flexible and easy to handle, with good kink resistance due to a special hose design. Suitable for reverse
pumping, for easy cleaning.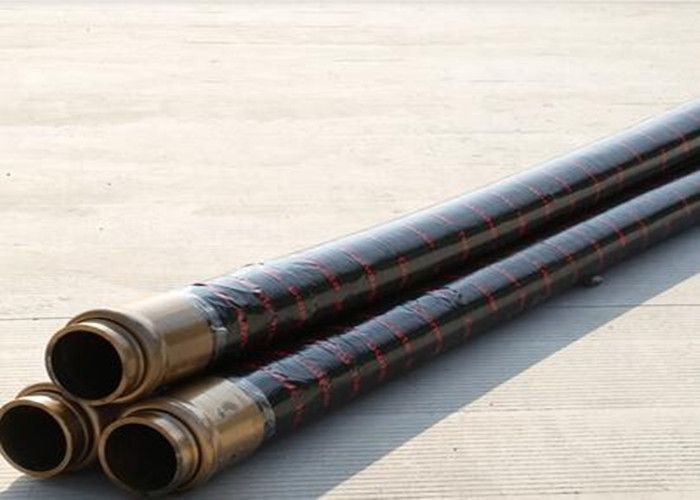 2″ W. P 85bar of Rubber Concrete Pump Hose
FOB Price: US $3.88 / Meter
Min. Order: 100 Meters
Usage: Agricultural, Industrial, Medical, Vehicle
Material: Nitrile Rubber
Size: 2′′-6′′
W.P: 85bar
B.P: 200bar
Certificate: ISO, CE, SGS, API
Hot Sale! ! Concrete Pump Hose
FOB Price: US $0.6 / Meter
Min. Order: 5 Meters
Material: Nitrile Rubber
Capability: Concrete Pump Hose
Color: Black
Export Markets: Global
Size: 51mm-102mm
Length: 20m
Concrete Pump Hose
FOB Price: US $0.6 / Meter
Min. Order: 5 Meters
Material: Nitrile Rubber
Capability: Concrete Pump Hose
Color: Black
Export Markets: Global
Size: 51mm-102mm
Length: 20m
High Pressure Abrasion Resistant Shotcrete/Concrete Pump Hose
FOB Price: US $1.2-1.3 / Meter
Min. Order: 100 Meters
Material: Natural Rubber
Capability: Rubber Hose for Sand and Grit Blasting
Color: Black
Tube: Abrasion Resistant Conductive Natural and Cbr Rubb
Reinforcement: High Tensile Steel Cords
Cover: Synthetic Rubber
 Contact Now Inquiry Basket
South America Popular! Cement Hose/Concrete Pump Hose
FOB Price: US $0.1-0.2 / Meter
Min. Order: 100 Meters
Material: Natural Rubber
Capability: Rubber Hose for Sand and Grit Blasting
Color: Black
Tube: Abrasion Resistant Conductive Natural and Cbr Rubb
Reinforcement: High Tensile Steel Cords
Cover: Synthetic Rubber
 Contact Now Inquiry Basket
Heavy Duty Concrete Hose/ Shotcrete Hose for Concrete Pump Truck
FOB Price: US $0.1 / Meter
Min. Order: 100 Meters
Material: Natural Rubber
Capability: Rubber Hose for Sand and Grit Blasting
Color: as Your Request
Market: Global
Date of Delivery: Within 15days
Price: Competitive Price
 Contact Now Inquiry Basket
Steel Wire Reinforced Concrete Pump Hose with High Pressure
FOB Price: US $100 / Meter
Min. Order: 60 Meters
Material: EPDM
Capability: Rubber Hose for Sand and Grit Blasting
Color: as Your Request
Market: Global
Date of Delivery: Within 15days
Price: Competitive Price
 Contact Now Inquiry Basket
Long Wear Resistance Concrete Pump Hose
FOB Price: US $0.6 / Meter
Min. Order: 10 Meters
Usage: Agricultural, Industrial, Medical, Vehicle
Size: 76-125mm
Temperature: -40`C~+85`C
Reinforcement: Anti-Static Copper Wire
Certificate: ISO CE SGS API
Business Type: Manufacturer
 Contact Now Inquiry Basket
Long-Term Concrete Pump Hose with High Quality and Competitive Price
FOB Price: US $0.6 / Meter
Min. Order: 10 Meters
Usage: Agricultural, Industrial, Medical, Vehicle
Size: 76-125mm
Temperature: -40`C~+85`C
Reinforcement: Anti-Static Copper Wire
Certificate: ISO CE SGS API
Business Type: Manufacturer
 Contact Now Inquiry Basket
Concrete Pump Hose
FOB Price: US $1.88 / Meter
Min. Order: 100 Meters
Usage: Agricultural, Industrial, Medical, Vehicle
Material: Nitrile Rubber
Place of Origin: Shandong
Brand Name: Hyroteflex
Model Number: Concrete Pump Hose
W.P: 85bar
 Contact Now Inquiry Basket
High Pressure Abrasion Resistant Concrete Pump Hose From China
FOB Price: US $0.6 / Meter
Min. Order: 10 Meters
Usage: Agricultural, Industrial, Medical, Vehicle
Size: 76-125mm
Specification: 76mm-152mm
Trademark: Hyroteflex
Origin: Qingdao Shandong
 Contact Now Inquiry Basket
High Pressure Hose of 800psi /1200psi Concrete Pump Hose (2″-5″)
FOB Price: US $0.6 / Meter
Min. Order: 10 Meters
Usage: Agricultural, Industrial, Medical, Vehicle
Size: 76-125mm
Working Pressuer: 800/1200psi
Bursting Pressure: 3200/3500psi
Specification: 76mm-152mm
Trademark: Hyroteflex
 Contact Now Inquiry Basket
Prefessional Maufacturer Concrete Pump Hose
FOB Price: US $10 / Piece
Min. Order: 400 Pieces
Material: EPDM
Capability: Rubber Hose for Sand and Grit Blasting
Color: as Your Request
Market: Global
Date of Delivery: Within 15days
Price: Competitive Price
 Contact Now Inquiry Basket
Wire Reinforced Concrete Pump Hose High Quality
Min. Order: 100 Meters
Material: EPDM
Capability: Rubber Hose for Sand and Grit Blasting
Color: Black
Samples: for Free
W.P: 85bar
B.P: 200bar
 Contact Now Request Sample Inquiry Basket
Concrete Pump Hose/Shotcrete Pump Hose/Cement Hose
FOB Price: US $0.1-0.2 / Meter
Min. Order: 100 Meters
Material: Natural Rubber
Capability: Rubber Hose for Sand and Grit Blasting
Color: Black
Tube: Abrasion Resistant Conductive Natural and Cbr Rubb
Reinforcement: High Tensile Steel Cords
Cover: Synthetic Rubber
 Contact Now Inquiry Basket
Best Quality! Concrete Pump Hose
FOB Price: US $0.7 / Meter
Min. Order: 500 Meters
Usage: Agricultural, Industrial
Material: Natural Rubber
Model: Concrete Pump Hose
Length: 20m
Color: Black
Size: 51mm—102mm
 Contact Now Inquiry Basket
Wire Reinforced Concrete Pump Hose
FOB Price: US $5 / Meter
Min. Order: 100 Meters
Material: EPDM
Capability: Rubber Concrete Pump Hose
Color: Black
Performance: Rubber Concrete Pump Hose
Brand: Hyroflex/Hyrotech
Length: as Request
 Contact Now Inquiry Basket
Concrete Pump Hose
FOB Price: US $0.7 / Meter
Min. Order: 500 Meters
Usage: Agricultural, Industrial
Material: Natural Rubber
Length: 20m
Color: Black
Size: 51mm—152mm
Temperature: -40c–70c
 Contact Now Inquiry Basket
High Quality Concrete Pump Hose
FOB Price: US $5 / Meter
Min. Order: 1,000 Meters
Material: EPDM
Capability: Rubber Concrete Pump Hose
Color: Black
Performance: Rubber Concrete Pump Hose
Brand: Hyroflex/Hyrotech
Length: as Request
 Contact Now Inquiry Basket
Rubber Concrete Pump Hose/Srecial Concrete Pump Hose
Min. Order: 100 Meters
Material: Natural and Cbr Rubber
Capability: Rubber Hose for Sand and Grit Blasting
Color: Black
Size: 2′′-6′′
Wp: 8.5mpa
Bp: 20mpa
 Contact Now Inquiry Basket
Competitive Concrete Pump Hose/Cement Hose Made in China
Min. Order: 500 Meters
Material: Nitrile Rubber
Capability: Concrete Pump Hose
Color: Color
Flange: 148mm
Model: Concrete Pump Hose
Packing Type: Plastic
 Contact Now Inquiry Basket
Rubber Concrete Hose/Special Rubber Concrete Pump Hose
Min. Order: 100 Meters
Material: Natural and Cbr Rubber
Capability: Rubber Hose for Sand and Grit Blasting
Color: Black
Size: 2′′-6′′
Wp: 8.5mpa
Bp: 20mpa
 Contact Now Inquiry Basket
Special Rubber Concrete Hose/Concrete Pump Hose
Min. Order: 100 Meters
Material: Natural and Cbr Rubber
Capability: Rubber Hose for Sand and Grit Blasting
Color: Black
Size: 2′′-6′′
Wp: 8.5mpa
Bp: 20mpa
 Contact Now Inquiry Basket
Heavy Duty Rubber Concrete Hose/Constructure Hose
FOB Price: US $5 / Meter
Min. Order: 100 Meters
Material: EPDM
Capability: Rubber Concrete Pump Hose
Color: Black
Performance: Rubber Concrete Pump Hose
Length: as Request
Samples: for Free
 Contact Now Inquiry Basket