The concrete pump S-tube valve is a crucial component in the pumping system. It is used in combination with the wear plate and wear ring. 
The valve is pivotable mounted inside a concrete hopper. It alternately connects one of two outley ends od thepumping cylinders to the inlet end of the dischage conduit which was mounted on the fromt wall of the hopper.
1.- S Valve (Include: S 2015, S2018 , Big Mouth S valve)
Putzmeister concrete pump parts S Valve
1. Type S2015, S2018, S2318. 
2. Process Welding and Casting, Hard facing for tube inner wall
3. Lifetime 50,000cbm
4. HRC≥63
5. Process Welding and Casting, Hard facing
supply all kinds of S valve, for Putzmeister,Schwing,Junjin,Everdigm,etc.
The S-valve is the first choice for concrete pressures above 85 bars.
This is especially useful for long pumping distances over stationary pipelines.
The S-valve is especially designed for long life and high concrete pressure.
This results in long service intervals and increased availability of the machine.
To extend the life of the S-valve, the inside wall can be rebuilt by hard face welding.
Type:

Sany/Putzmeister/Zoomlion/Kyokuto/Sermac/CIFA/HOLD/XCMG/SwchingConcrete Pump
Material:
Welded pipe 16Mn; Shaft 38 CrMoal, #45 steel, Hardfacing for pipe inner wall
Lifetime:
≥50,000cbm based on different type
Carbide HRC
≥60
Process
Molding+Bead Welding+Welding
Wall thickness
16mm(Pipe)+4mm(Bead Welding Layer)
Ordinary s tube the wall thickness is 12mm,which will easily lead to tube burst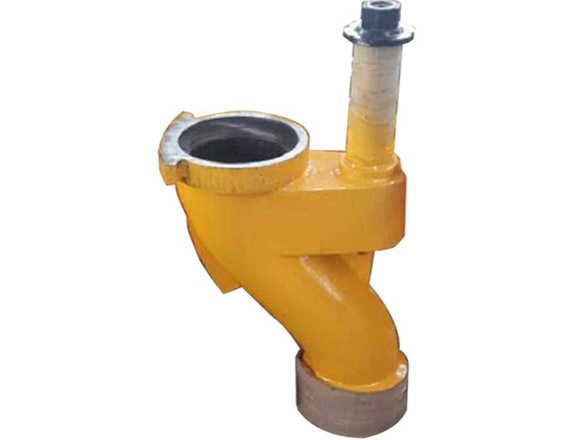 S Valve Tube for Putzmeiser Trailer Pump Spare Parts Dn200
FOB Price: US $435-460 / Piece
Min. Order: 1 Piece
S Valve Tube for Putzmeister Concrete Truck Pump
FOB Price: US $435-460 / Piece
Min. Order: 1 Piece
High Quality S Tube for Putzmeister Concrete Stationary Pump
FOB Price: US $435-460 / Piece
Min. Order: 1 Piece
S Tube for Sany C8 Concrete Pump
FOB Price: US $435-460 / Piece
Min. Order: 1 Piece
Video
Putzmeister Concrete Pump S Valve
FOB Price: US $435-460 / Piece
Min. Order: 1 Piece
Forging S Valve for Pm Truck-Mounted Pump with High Quality
FOB Price: US $435-460 / Piece
Min. Order: 1 Piece
Big Mouth S-Valve for Putzmeister Boom Pump and Truck-Mounted Pump
FOB Price: US $435-460 / Piece
Min. Order: 1 Piece
Zoomlion Concrete Pump S Valve Dn200 Dn235 Dn260
FOB Price: US $430-460 / Piece
Min. Order: 1 Piece
Zoomlion Concrete Pump Spare Parts S Valve for Dn200/Dn230/Dn235/Dn260
FOB Price: US $430-460 / Piece
Min. Order: 1 Piece
Small Mouth S Valve for Putzmeister Trailer Pump Spare Parts
FOB Price: US $435-460 / Piece
Min. Order: 1 Piece
Putzmeister Concrete Pump Parts S Valve Assembly
FOB Price: US $435-460 / Piece
Min. Order: 1 Piece
Video
Concrete Pump Truck Mounted Pump S Valve for Zoomlion
FOB Price: US $435-460 / Piece
Min. Order: 1 Piece
High Quality S Tube/Valve Suitable for Cifa Concrete Pump
FOB Price: US $430-460 / Piece
Min. Order: 1 Piece
Yellow Painted Dn230 Pm Concrete Pump S Valve
FOB Price: US $435-460 / Piece
Min. Order: 1 Piece
Cifa Concrete Pump Parts S Valve Dn200 Dn230
FOB Price: US $430-460 / Piece
Min. Order: 1 Piece
Concrete Pump Spare Parts S Valve for Cifa Parts
FOB Price: US $430-460 / Piece
Min. Order: 1 Piece
Sany Dn260 Concrete Pump Parts Forging S Valve
FOB Price: US $435-460 / Piece
Min. Order: 1 Piece
Video
S Valve for Sany/Zoomlion/Hold/Putzmeister Concrete Pump Parts
FOB Price: US $435-460 / Piece
Min. Order: 1 Piece
S Tube Assembly for Zoomlion Concrete Boom Pump Parts
FOB Price: US $430-460 / Piece
Min. Order: 1 Piece
Forging S Pipe for Construction Machinery Putzmeister Boom Pump
FOB Price: US $435-460 / Piece
Min. Order: 1 Piece