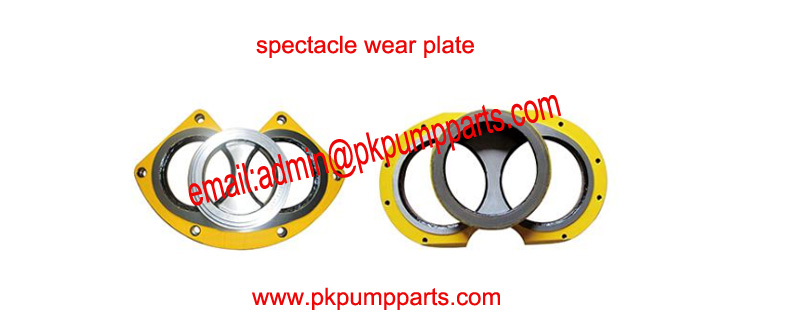 The wear plate for concrete pump is a critical component in the concrete pumping system. It resembles a spectacle frame, and thus is often referred to as the spectacle plate.
The wear plate is installed on the rear wall of the concrete hopper. It has two openings. Each opening is connected to the outlet end of the concrete pumping cylinder. During pumping operation, the plate can serve as a seal for the hopper while offering protection against wear at the same time.
The cutting ring, or wear ring, is mounted in the opening of the S-tube valve assembly. It protects the inlet end of the S-tube valve against wear.wear ring is often pressed against the wear plate. Its opening should be in alignment with one of the two openings of the plate. This allows the concrete coming from the outlet end of pumping cylinder to pass through the S-tube valve while a tight seal between the ring and plate can be formed. The ring can be swung away from the spectacle plate under the action of a crank arm. During this movement, a large shearing force is produced and acts upon the concrete aggregate to cut off its supply.
Specifications of Concrete Pump Wear Plate:
Concrete pump wear plate and cutting ring
Tensile strength: >2500 N/mm2
Material: Tungsten carbide
Model: DN225
Size: upon your request
Lifetime: 30,000~80,000cbm
HRA: ≥86
Application: PM truck and trailer mounted concrete pump
S pipe matching small and big wear plate:
Putzmeister wear plate DN200/DN230
Putzmeister wear plate for C valve
Schwing wear plate DN200/DN230/DN250
IHI wear plate DN200/DN220
Kyokuto wear plate DN205/DN225
Sermac wear plate DN230
Mitsubishi wear plate
CIFA wear plate DN230