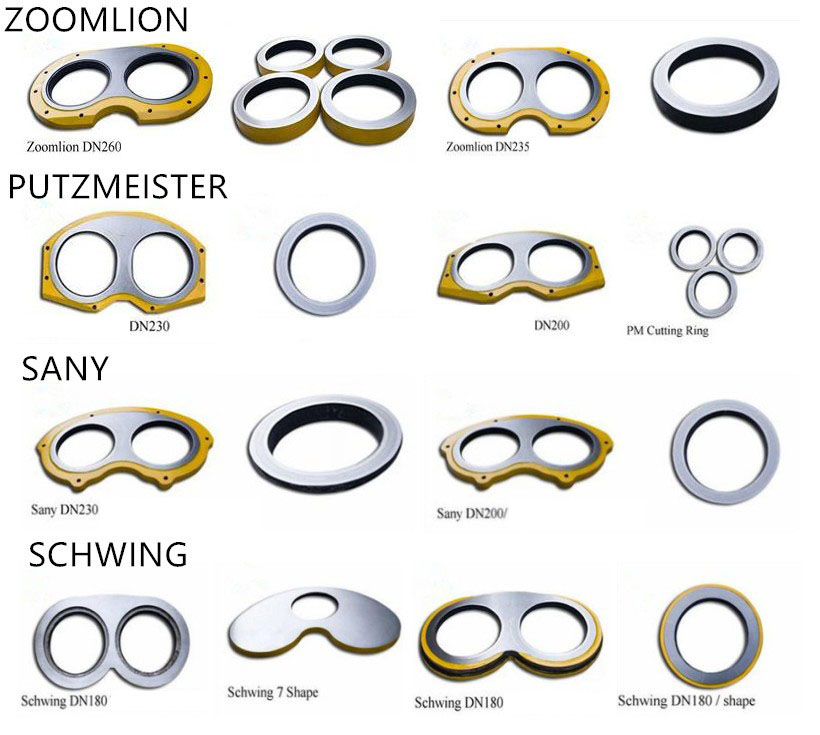 The wear plate for concrete pump is a critical component in the concrete pumping system. It resembles a spectacle frame, and thus is often referred to as the spectacle plate.
The wear plate is installed on the rear wall of the concrete hopper. It has two openings. Each opening is connected to the outlet end of the concrete pumping cylinder. During pumping operation, the plate can serve as a seal for the hopper while offering protection against wear at the same time.
Characters of Spectacle wear plate for Zoomlion concrete pump
1.Manufacturer with competitive price and good quality.
2. We can supply different concrete pumps spectacle plate and cutting ring.
3. OEM & ODM are available.
4. Other concrete pumps we cam also supply, such as S valve, swing lever, wear sleeve, piston, delivery pipe ,elbow, clamp etc.
Specifications of ZOOMLION WEAR PLATES:
Product Name

Brand

Zoomlion

Material

Tungsten carbide, body S35C steel, electrode from Germany

Model Number

Product Code

Carbide Width

Carbide hardness

Carbide thickness

Working Life
all kinds of brand concrete pump wear plate, technical date as below
Technology
Technical Standard
Service Life
Hardness
Atmosphere sintering process
SY5064-85
5 times more than similar traditional product
HRC>70
Tensile Strength
Fracture Toughness values
Yield Strength
>1000Mpa
10 Mpa1/2
>1000Mpa
Substrate/Matrix Material
Bending Strength
High Temprature Resistance
Surface Roughness
45#,40Cr, 1Cr13 steel
1100-1300 Mpa
700-800 centigrade degree
Ra<0.1< td="">
Bond Strength
Corrosion Resistance
Compactness
>110Mpa
>95%
Gas Hole Ratio<0.01%< td="">