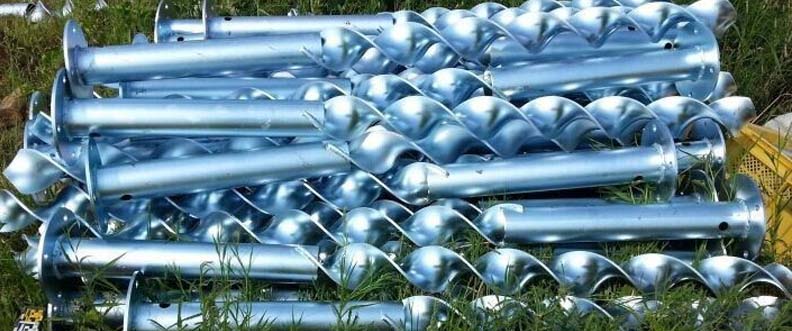 ground screw piles, also called as screw pile, is a concrete free ground foundation, which is quicker, more efficient, sustainable and value for money compared to concrete foundations. It's a proven technology as ground mounting system for solar PV and housing, also it's gradually applied in highway roads,construction fields etc.
Features of ground screw piles:
Require no digging
Require no concrete filling
Are labour efficient – saving money
Have proven ability under high-pressures, pulling-out forces and lateral pressure loads
Are good for the environment – with no concrete chemicals, minimum disturbance to the surface and no damage to the surrounding area
Are durable – lasting up to 100 years
Require no loading time
Are easy to remove – saving time and money
Are excellent for health and safety as avoid lateral risk
Screw piles are wound into the ground much like a screw into wood. Screw piles are installed using various earthmoving equipment fitted with rotary hydraulic attachments. Machinery varies from skid-steer loaders to 5 tonne through 80 tonne excavators. Rotary hydraulic powerheads with torque capacities ranging from 5,000 Nm to 500,000 Nm are custom fitted using various boom configurations. Special drive attachments connect the screw pile to the machine. Correct installation techniques are paramount to meet engineered design load and settlement outcomes. Incorrect techniques are likely to result in poor overall pile performance.
Applications of ground screw piles
Underpinning for retaining walls
Erosion control, rock retention, slope stabilisation, turf reinforcement
Shade structures, tree support
Use in vineyards, orchards, crop farming
Portable buildings and structures
Bridges
Drainage, pipelines
Power Lines, telephone poles, masts, towers
Scaffolding
Wind turbines
Playgrounds and parks
Timber buildings
Temporary buildings
Fencing