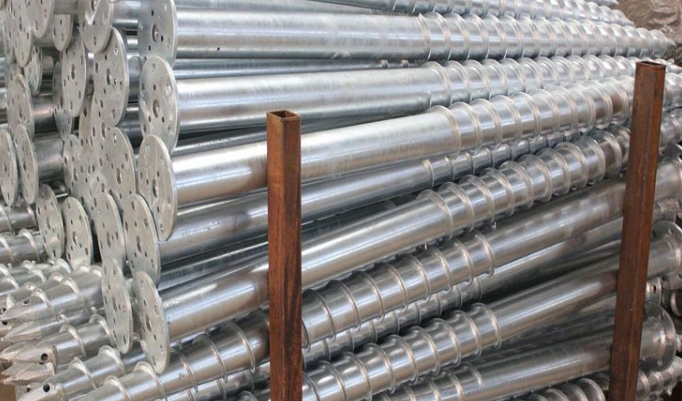 Ground screw, also called as screw pile, is a concrete free ground foundation, which is quicker, more efficient, sustainable and value for money compared to concrete foundations. It's a proven technology as ground mounting system for solar PV and housing, also it's gradually applied in highway roads,construction fields etc.
Ground anchor (also known as earth anchor) features its specialized design of helix for offering moderate holding strength in most soils. The ground anchors don't need high installation torque and can be installed by hands or other power driven equipments. It is often used to secure tent, fence, boats, trees, additionally, it also can help you to tether your pets.
| | |
| --- | --- |
| Specification | Ground screws |
| Length | Usual type: 1600 /1800 /2000mm ( 550mm-4000mm ) |
| Outer Diameter |  48 /60 /68 /76 / 89 /114mm |
| Pipe thickness | 2.5 / 3.0 / 3.5 / 3.75 / 4.0 mm |
| Depth | 500~3000mm |
| Material | Q235 ISO630 Fe A / DIN EN10025Fe 360 B |
| Surface Treatment | Hot dip galvanized to DIN EN ISO 1461-1999. |
| Top Design: | Flange (  or 3*M16) |
| Screw spacing | 40 / 60 mm |
Type of Ground Screw:
Ground Screw
Ground Screw with Flange
Ground Screw with Stirrup
Ground Piles
Ground pile with flange
Features of Steel Ground Screw Anchor
1.High work speed modern foundation construction without concrete, high installation capacities with machinery
2.Reliable quality welding quality strictly conform with international standard. smooth HDG surface, DIN EN ISO1461
3.Low cost of foundation screw is much lower than traditional concrete foundation
4.Environment friendly high stability, efficiency and suatainablity, without any digging or concreting.
Application of ground screw:
It allows signs, fencing, benches and other structure to be positioned quickly and easily, far beyond concrete foundation.
A range of construction and civil engineering projects.
Renewable energy, including ground mounted solar farms, solar car ports and greenhouse.
Infrastructure, including highways and rail signage and street furniture.
Ground screw as foundation for timber construction.
Fencing and gates.
Exhibitions and events.
Communities and parks
Billboards, advertising boards, and masts.
Garden and leisure.
Containers.