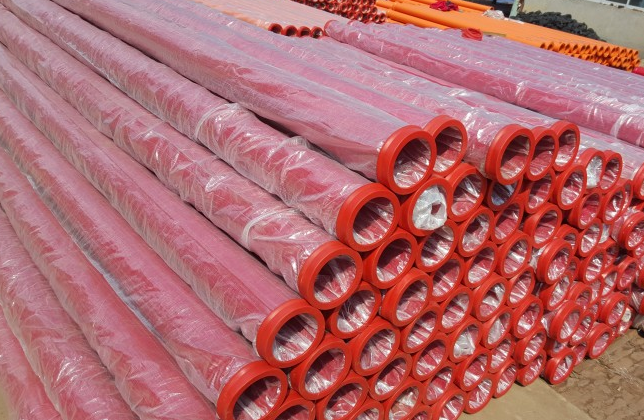 1.Place the concrete pump on a solid concrete floor or stone pier first, maintain the degree, and lock the positioning pins and pins of the four legs of the pump to remove the tire from the ground or remove the tire.
2.Make a chute according to the discharge port of the mixing machine and the hopper of the wear-resistant pump pipe machine, so that the material discharged from the mixing machine and the machine can enter the hopper of the pump through the chute.
3.The chute is usually made of angle steel and welded with 1.5mm thick steel plate. The bottom of the chute is supported by a support to make it firm.
4.Under normal circumstances, it is necessary to raise the height of 20CM on the hopper of the wear-resistant pump tube machine, so as to increase the volume of the hopper to ensure that the concrete will not flow out. Because the forced mixing machine and the unloading of the machine are discharged once, the concrete flowing into the hopper is more uniform. If the material is discharged in several stages, there will be more concrete stones in the back, and the pump will be unlucky, especially when the concrete has a large slump. It should be noted that the hopper of the pump should be raised. If it is a large-volume mixing machine, a storage hopper can be made in advance to ensure continuous feeding.
5,in the placement of the chute, the slope is required to be appropriate, the angle of inclination is fortunately between 25 ° -40 °, the drop is not too large.
6.When the chute is connected with the pump hopper, the space left by the chute and the hopper is convenient for cleaning the hopper and the sieve.
7.After the installation is in place, look at the whole, ensure that the cover door of the wear-resistant pump tube is freely opened and convenient for maintenance operation.
The company will adhere to the credo of "excellent quality begins with subtlety", comprehensively enhance the management level of the company, and aim at customer satisfaction, and provide more convenient and diversified quality products and services for the majority of Chinese and foreign customers.
The quality of our products is the premise of our development. The credibility of our cooperation makes us take care of your production. Your trust is the cornerstone of our long-term cooperation.