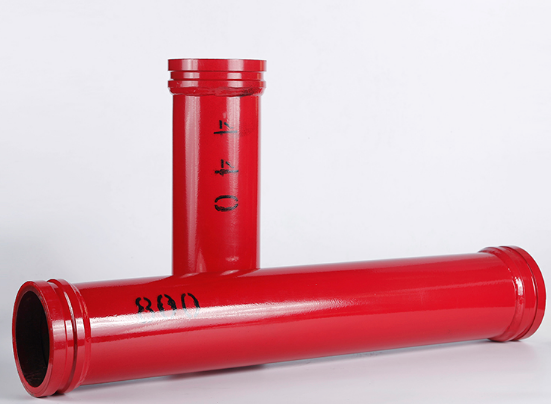 Steel pipe concrete structure is a novel composite structure made of concrete filled steel tube formed. Because steel concrete structure to more effectively play two materials steel and concrete respective advantages, while overcoming the disadvantages of steel structures is prone to local buckling.
Steel concrete structure in accordance with the section of the form can be divided into rectangular steel concrete structures, concrete structures and polygonal circular steel pipe and other concrete structures, including rectangular and circular steel pipe concrete structure concrete structure wider application.
As we all know, the concret has high compressive strength. But flexural capacity is weak, and steel, in particular, strong steel bending ability, with good plasticity, but when pressure is easy to lose axial compressive buckling capacity. The steel concrete in the structure can be combined with the advantages of both, can make concrete lateral pressure in the state, the compressive strength can be doubled. While the presence of the concrete to improve the rigidity of the pipe, the two function together, thus greatly improving the carrying capacity. As a new steel concrete composite structures, mainly in axial compression and a smaller force eccentric compression member-based, is widely used in the framework of the structure (such as factories and high-rise).
The types of wear-resistant pump tubes are complex and have a wide variety of specifications. According to its working principle, it can be divided into the following three categories.
1.The vane pump uses the interaction of the vane and liquid to transport liquids, such as centrifugal pumps, mixed flow pumps, axial pumps and vortex pumps.
2.The volumetric pump uses a periodic change in the volume of the working chamber to deliver liquids, such as reciprocating pumps, gear pumps, screw pumps, plunger pumps, and slide pumps.
3.Other types of pumps only change the pump of liquid potential, such as water trucks; pumps that use liquid energy to transport liquids, such as jet pumps, water hammer pumps; in addition to water ring vacuum pumps. In addition to the above basic classification methods, industrial pumps and agricultural pumps can be classified according to their uses.
According to the nature of the transport liquid, it can be divided into clean water pump, sewage pump, oil pump, acid pump, liquid ammonia pump, mud pump and liquid metal pump.
| | | | |
| --- | --- | --- | --- |
| | Description | Paint | Type |
| ST52 Pipe | DN125*3M*4.0mm | Baking Paint | Weld Pipe |
| ST52 Pipe | DN125*3M*4.5mm | | Weld Pipe |
| ST52 Pipe | DN125*3M*4.5mm | Baking Paint | Seamless Pipe |
| ST52 Pipe | DN125*3M*8mm | Baking Paint | Seamless Pipe |
| ST52 Pipe | DN100*3M*4.1mm | Baking Paint | Weld Pipe |
| ST52 Pipe | DN100*3M*4.1mm | | Seamless Pipe |
ST52 seamless Concrete Pump Pipe , which material is 16Mn , the formal thickness is 4.5mm , also have 5.0mm , 6.0mm, 7.72mm pipe, formal length is 3000mm , flange is sk148mm or Z/X flange , M/F flange , service life is usually 15000cbm-20000cbm , which is used on the concrete pump mobile pump or concrete pump stationary pump. Not only concrete pump pipe , we also have Concrete Pump Elbow , Concrete Pump Bend , Concrete Pump Clamp coupling , Concrete Pump Rubber Hose , Concrete Pump Rubber Piston , Concrete Pump Cleaning Ball