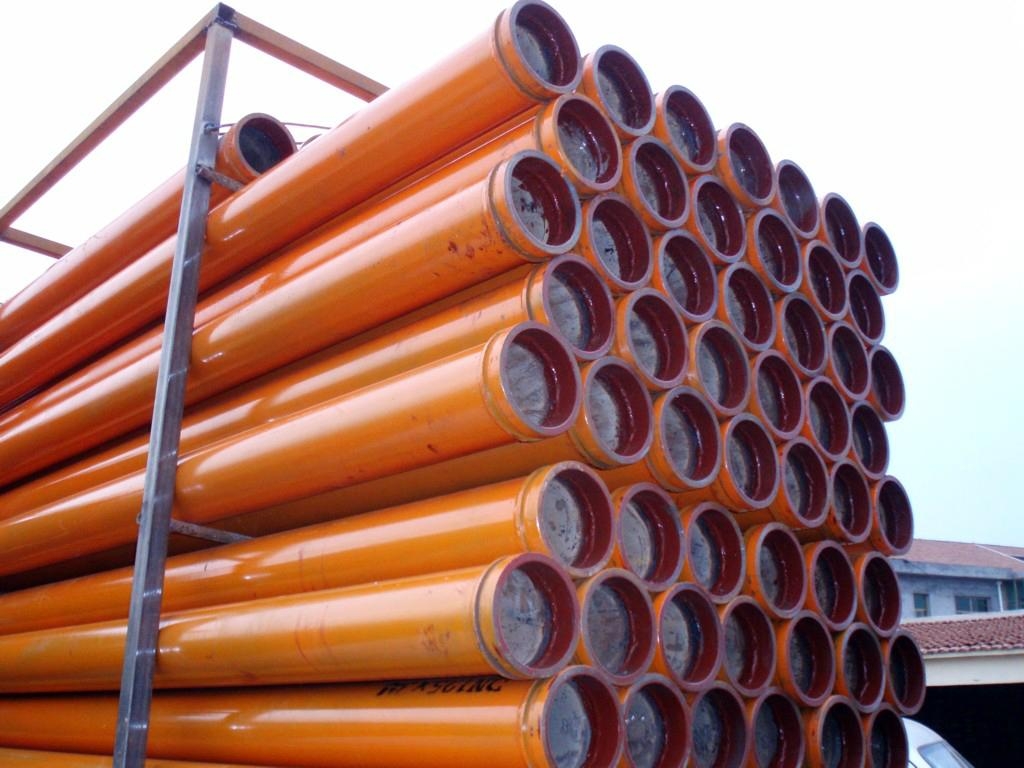 The outlet of it is made of high strength low alloy material and its tensile strength is over 600MPa and hydrostatic test pressure is over 24MPa.Its safety factor is over 2.5,which is much higher than the domestic industry standards.We promise 100% non-exploding in the standard working pressure and guarantee high abrasion resistant with safety .
These Wear-resisting pipe systems must therefore be designed to withstand months, even years, of extreme use resulting from the abrasive nature of the concrete, pumped at pressures of 2000 to 3000 psi at high speed. Any disruption due to a failure in the piping system can be costly—literally halting construction—because concrete will harden quickly and once it does, the piping must be replaced before pouring can resume.
The inner of our products is made of imported alloy steel tube with Cep> 0.75%,characterized by high carbon,high alloy,high precion,and material wall thick well-proportioned. We can promise the average concrete conveying amount is more than 60000 cubic meters .
"When you install a concrete pipeline you have to factor in that the higher up you go, the more pressure is created and the greater the wear," says Paul Turney, Amherst's concrete pumping manager. "It's very labor intensive to replace broken pipes, not to mention the delay in construction, so you have to counteract all that by making sure the wall material can stand up when pushing concrete 700 feet vertically."
Other piping system elements include boom and lay-down systems, elbows and bends, reducers, back-end kits, ends, adapters, couplings and gaskets. The company's 5-inch and 6-inch two-bolt high pressure coupling, for example, has been tested to handle 15,000 psi static loading without any sign of failure.
The company's line of concrete-specific products is anchored by its pipe systems, from 2-inch to 6-inch I.D, which are made abrasion-resistant via a unique induction hardening process. It begins with a steel pipe manufactured to a proprietary chemistry, followed by induction heating, and finally water quenching of the inner surface to create a single wall pipe that can last up to 3 to 5 times longer than mild steel.
Compared with the single pipes and Induction concrete pump ,our twin-wall pipes is money saving .Using our topest pipes can greatly reduce the frequence of repairing and replacing ,and put and end to the extra compensation and legal disputes because of sudden pipes exploding,which can also reduce the cost up to 30%-50%.