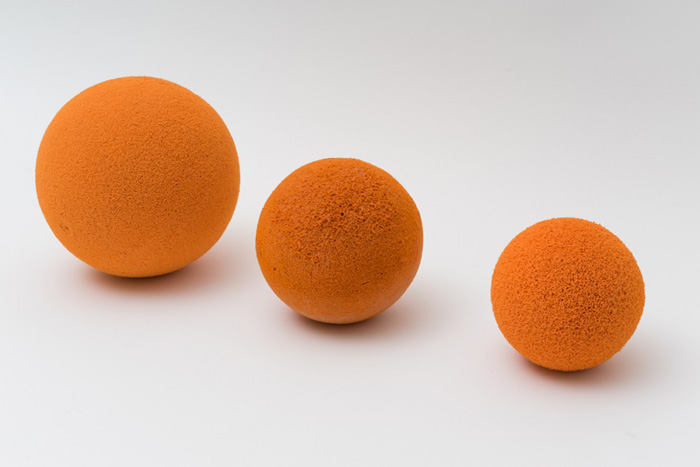 The sponge rubber balls are necessary to maintain the inner side of condenser and heat exchanger tubes clean in power plants and process industries. Any kind of deposition inside the tube reduces the heat-exchange coefficient drastically. The sponge rubber balls can clean all the deposits on the inner side of the tube, and ensure that the equipment runs efficiently.
Our Sponge Balls are sold to Power Plants, Various types of industries and for HVAC condenser tube cleaning applications.
The Standard Sponge Balls (SSB) also called as non-abrasive balls have porous structure, they are softer and more elastic. They have tendency to absorb water, their surface is coarser, so it can remove dirty stuff easily.
Standard balls are used in most condition that has no special requirements. We recommend continuing use these balls for fresh water, water with high TDS and sea water application. For most customers, the standard sponge ball is their first choice.
The standard balls offered by us have 5 kinds of different firmness. They are soft, mid-soft, medium, mid-firm, and firm.
| | | |
| --- | --- | --- |
| Symbol | Firmness | Density |
| S | Soft | 160 kg/m3 |
| MS | Medium Soft | 200 kg/m3 |
| M | Medium | 250 kg/m3 |
| MH | Medium Hard | 300 kg/m3 |
| H | Hard | 350 kg/m3 |
Efficient way of cleaning
The best way to clean rubber hoses is to reduce time and costs in the same process. With the use of rubber sponge balls you can even reduce water and chemical compounds usage.
Improved Cleaning Efficiency
Preserved Integrity of Film for Condenser Tubes
Maximized Ball Life
Membrane Quality Assurance
Balls are made from the highest quality of raw materials.  First grade natural rubber is used and blended with various additives giving them their fine quality.