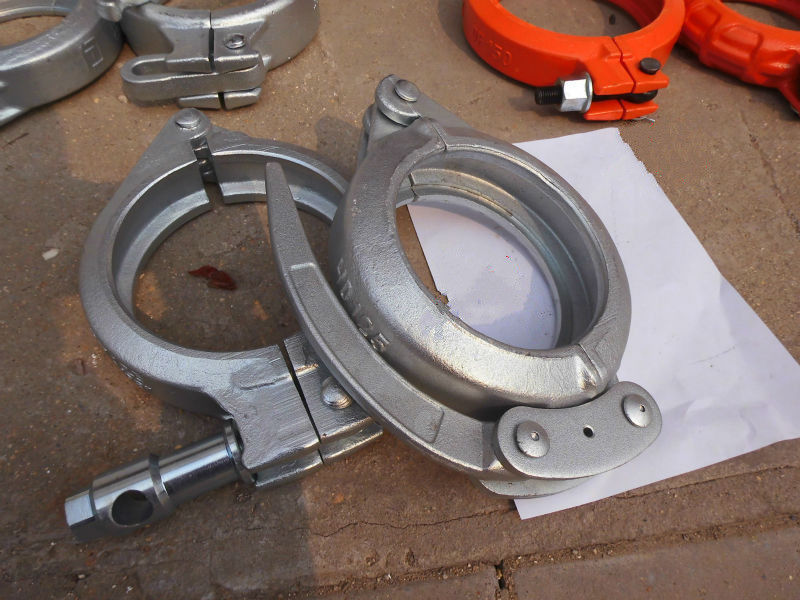 Adjustable concrete pump Snap Clamp is a concrete pump spare part,it is used to connect and fasten concrete pump pipelines and rubber hoses.it is always used together with the rubber gasket. Rubber gasket also called rubber seals,or rubber O rings.
Serving brand include Schwing, Putzmeister, CIFA, Sany,Zoomlion….etc. It works together with rubber gasket(seals) in pipe connection.
Clamp Coupling Range/Types:
1.Snap clamp (quick clamp coupling)
2.Bolt clamp
3.Bolt clamp with flange
4.HD ADJ Clamp
5.HD NON ADJ Clamp
6.Wedge Clamp
Specifications of Adjustable concrete pump Snap Clamp
Material
40Cr or customized
Technique
Forging/Precision Casting
Size
2″,    3″,    4″,      5″,     6″
DN50,  DN80,  DN100,  DN125,  DN150
Working pressure 
130bar
Burst pressure 
280bar
Apply flange size
 SK148mm
Parts
safety pin
Surface treatment
Galvanized/Painted ,color as request.
 FORGED Adjustable concrete pump Snap Clamp :
DN80 3"

DN100 4.5″ 

DN125 5.5″ 

DN150 6″

DN175 7″

DN200 8″
DESCRIPTION
SPEC
FLANGE SIZE
Forged Screw coupling DN125 5.5″,WITHOUT PEDESTAL
low pressure
148
high pressure
157
Forged quick snap coupling DN125 5.5″
low pressure
148
high pressure
157
Forged quick snap coupling DN100 4.5″
low pressure
124/128
Forged SCREW coupling DN125,(center hight 100MM)
low pressure
148
Forged SCREW coupling DN125,(center hight 105MM)
low pressure
148
Forged QUICK SNAP DN125,with pedestal
low pressure
148
Forged SCREW coupling DN150
high pressure
185
Forged Adjustable coupling DN125
low pressure
148
Forged SCREW coupling DN175 with pedetal
low pressure
201
Forged TWO BOLTS coupling DN125
low pressure
149-150
Forged Wedge coupling DN150/DN125/DN100
low pressure
201-220
Forged quick snap coupling 3″
low pressure
90
2″ Casted coupling
low pressure
48