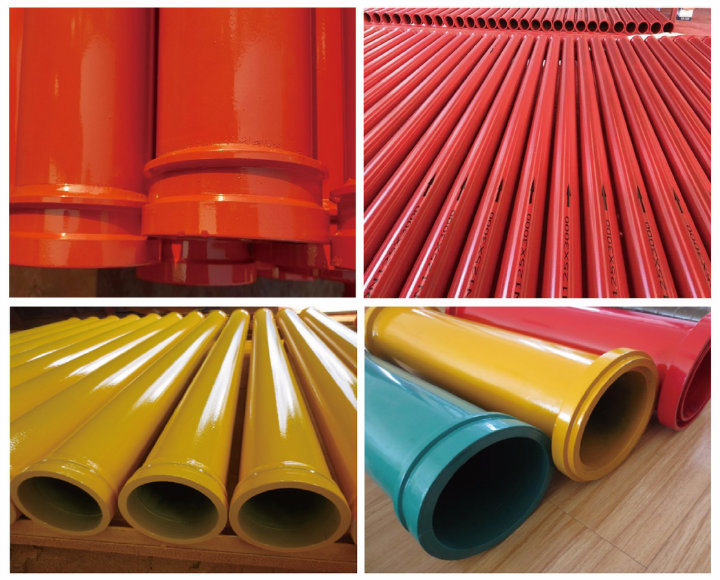 Sany Concrete Pump Boom Pipe
Complete with weld-on collars at the end. Are used for booms,ground pipelines and truck pipelines. They can be supplied in various types and quality.
Welded or seamless
Quality: Q235, No.20 , ST-52 ,37Mn5, 45Mn2
Thickness:from 2mm to 10mm or more
Length:according to the customers'requirement. Normally 1m,2m,3m,5m
Application: The Pipes can be widely used in the construction industry, for the Concrete pump placing boom delivery pipe, Concrete pump delivery pipe, Placing boom delivery pipe and Concrete mixing station pipeline in construction industry. 
Concret Pump Pipeline Systems /Pipe Fitting Parts
I
Concrete Pump Pipe Details
Applications
Boom Pipe/Straight Pipe
Size
DN133x5.0/5.5x Lengths
1.Induction Hardened
2.Wear resistance,safety
3.Alloy steel,flanged
4.Light-weight design
5.Long life abrasion resistant
Truck Mounted Concrete Pump/
Concrete Pump Trucks
SANY,ZOOMLION,
PUTZMEISTER,
SCHWING,
CIFA,XCMG
Weight
>14.5kg
Inside Diameter
124mm
Outside Diameter
133mm
Tolerance
+/- 1.5mm
Heat treament
Induction Hardened
Hardness
55~60HRC
Depth of induction
1.8~2.3mm
Max Working Pressure
17MPa
Working Life
>30000CBM (regular concrete C25/30)
Material
45Mn2 or Low alloy high strength steel
 
seamless steel pipe
Origin
China
Leadtime
3~7 days
Twin-wall Boom Pipe
Size
DN133x5.0/5.5x Lengths
1.Twin wall =wear resistant pipe liner+steel shell
2.Chorme carbide liner protects aginst
flowturbulence providing  longer life liners.
3.Flanged with hardened steel insert weld on ends
Weight
>14.5kg
Inside Diameter
124mm
Outside Diameter
133mm
Tolerance
+/- 1.5mm
Heat treament
Induction Hardened
Hardness
60~64HRC
Max Working Pressure
17MPa
Working Life
>60000CBM concrete
Material
Outside:Low alloy high strength steel(45Mn2)
Inside:   High wear-resistant alloy steel(65Mn)
Lined steel pipe
Origin
China
Leadtime
3~7 days
Deck Pipe
Size
DN125/150x Lengths
1.Induction Hardened
2.Chorme carbide liner protects aginst
flowturbulence providing  longer life liners
3.Flanged with hardened steel insert weld on ends
Truck Mounted Concrete Pump/
Concrete Pump Trucks
SANY,ZOOMLION
Length
1000~4000mm
Type
Single wall or twin wall
Hardness
Up to 68HRC
Material
Steel 20 or 45Mn2
Origin
China
Boom Reducer/Cone Pipe
Size
DN180-125,DN150-125,DN140-125,or others
1.Induction Hardened
2.Chorme carbide liner protects aginst
flowturbulence providing  longer life liners
3.Flanged with hardened steel insert weld on ends
Truck Mounted Concrete Pump/
Concrete Pump Trucks
SANY,ZOOMLION
Length
1400mm
Heat treament
Induction Hardened
Weld ends
Steel with chrome cabide inserts
Hardness
Up to 68HRC
Type
Single wall or twin wall
Origin
China
Delivery Pipes/Straight Pipe
Size
DN125/DN150 x thickness x lengths
1.wear resistant and safety
2.seamless or perfect weld on pipes
Trailer Concrete Pumps
SANY,ZOOMLIO