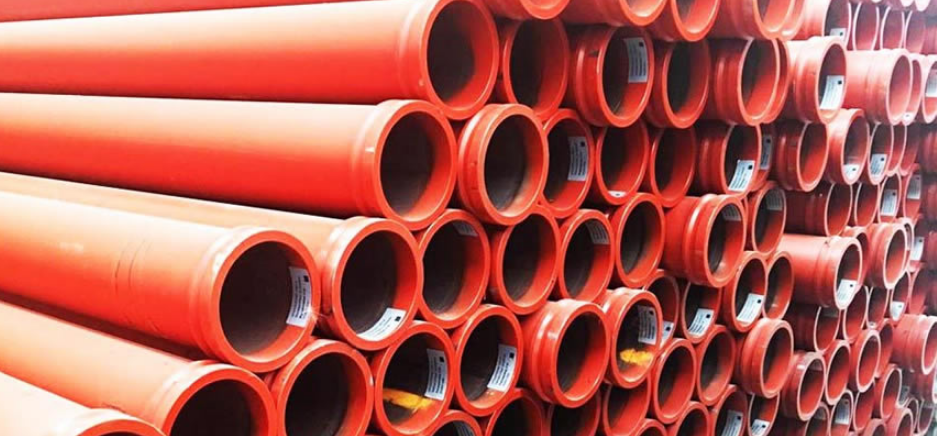 The precautions for the operation of the concrete pump pipeline are very important. The precautions are based on the actual situation and the application of professional knowledge, the handling of each detail is critical.
1) The concrete pump pipeline should be placed on a solid and flat ground, and the legs should be lowered to ensure the stability of the fuselage;
2) Check before operation, confirm that the electrical equipment and instruments are normal, the switch buttons and handles of all parts are in the correct position, and the fastening points of the mechanical parts are firm and reliable;
3) The concrete pump pipelineing pipe joints should be tightly sealed and the pipe clamps should be firmly connected. Before the vertical pipe, it should be no less than 10m horizontal pipe with check valve. It is strictly forbidden to connect the vertical pipe directly to the output of the concrete pump pipeline;
4) When clearing the blocked pipe, evacuate the surrounding personnel. Before the pipe is dismantled, a back pumping method should be adopted to remove the pressure of the pipeline. It is strictly prohibited that the nozzle is directly facing the person during disassembly;
5) Do not remove the hopper grille and other safety devices during operation. Do not climb and ride the pipeline, do not reach into the valve body to work, do not dismantle the pipeline when pumping;
6) When cleaning the pipe, the operator should leave the pipe outlet and the elbow joint. If the pipeline is cleaned with compressed air, no man or equipment shall be allowed within 10m of the outlet of the pipeline.
7) After the operation, depressurize the hydraulic system and return all control switches to their original positions.
Main Parts for Concrete Pump: 1.Wear Resistant Twin Wall Pipes 2.Hardened Boom and Deck Pipe 3.Concrete Pumping End Hoses 4.DN125*4.5mm/7.1mm*3M ST52 Pipes 5.DN125/DN100*R275 Casting Elbows 6.DN125*R275 Twin Wall Elbows 7.DN125/DN150 Clamps,Piston Ram 8.Wear Plate and Cutting Ring
Thickness (mm)

Length (mm)

Weld -on  Ends

W.T (kgs)

Applicable Pump Brands

148mm

14

148mm

46

148mm

72

Putzmeister, Schwing

148mm Chrome Carbide Insert

48

Putzmeister, Schwing

148mm Chrome Carbide Insert

76

Putzmeister, Schwing

148mm Chrome Carbide Insert

45

Putzmeister, Schwing

148mm Chrome Carbide Insert

48

Putzmeister, Schwing

148mm Chrome Carbide Insert

76

Putzmeister, Schwing

 

Putzmeister high pressure

Hardened ZX-Pipe

125

 

Putzmeister

4.0

Schwing 5"F/M flanges

 

Schwing high pressure

4.5

Schwing 5"F/M flanges

 

Schwing high pressure

7.0

Schwing 5"F/M flanges

 

Schwing high pressure

8.0

Schwing 5"F/M flanges

 

Schwing high pressure(PN200)

100

4.5

3000

122mm/127mm/4"HD

 

 

4.5

2000

122mm/127mm/4"HD

 

 

4.5

1000

122mm/127mm/4"HD

 

 

150

8.0

6000

6"HD/ZX-6" F/M

 

 

8.0

3000

6"HD/ZX-6" F/M

 

 

8.0

1500

6"HD/ZX-6" F/M

 

 

8.0

1000

6"HD/ZX-6" F/M

 

Others